There's something about a good beach that enlivens the senses: the briny scent of salt in the air, the calming murmur of waves, the gentle nip of sand whipped up by the soft breeze. A favourite beach is like a favourite poem – individual, important and something that makes our hearts sing, and now more than ever we are dreaming of days spent wriggling our toes in the sand and wallowing in salty water.
Instead of the typical sandy spots dotted with sun umbrellas and gaggles of tourists, we've sought out spaces that you may have to venture a little further for, but that remain incredibly beautiful and very often crowd-free. From the most exquisite beaches in Europe to far-flung stretches in Asia, Africa and more, these are the best beaches in the world.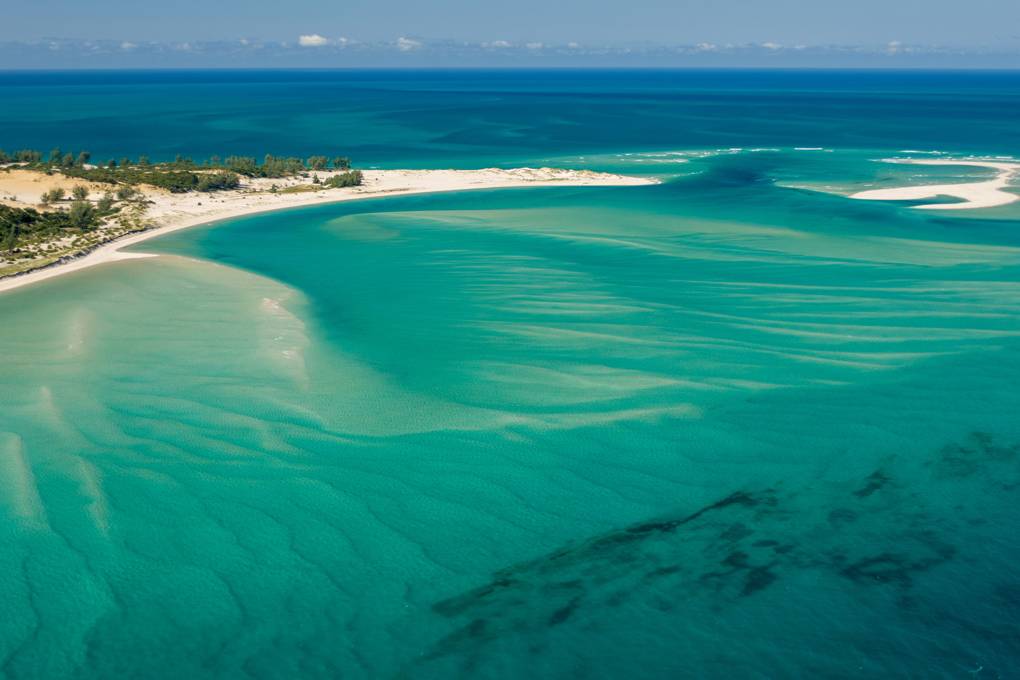 1. BENGUERRA ISLAND, BAZARUTO ARCHIPELAGO, MOZAMBIQUE
Cast away in the protected Bazaruto Archipelago off the coast of southern Mozambique, Benguerra is a place where sandbars shimmer like nacre and leggy flamingoes pick their way delicately through the channels. A short sail by dhow east of the town of Vilanculos, the fine sand here is fringed by a two-mile-long coral reef, while migrating humpbacks and huge whale sharks pass majestically further offshore. The shot-silk waters are also home to the largest dugong population in the western Indian Ocean, and inland you'll find congregations of crocodiles and all manner of bird species. But best of all, its marine-reserve status means there's only a handful of lodges on the island, so once the day-trippers depart, you'll have the beach all to yourself.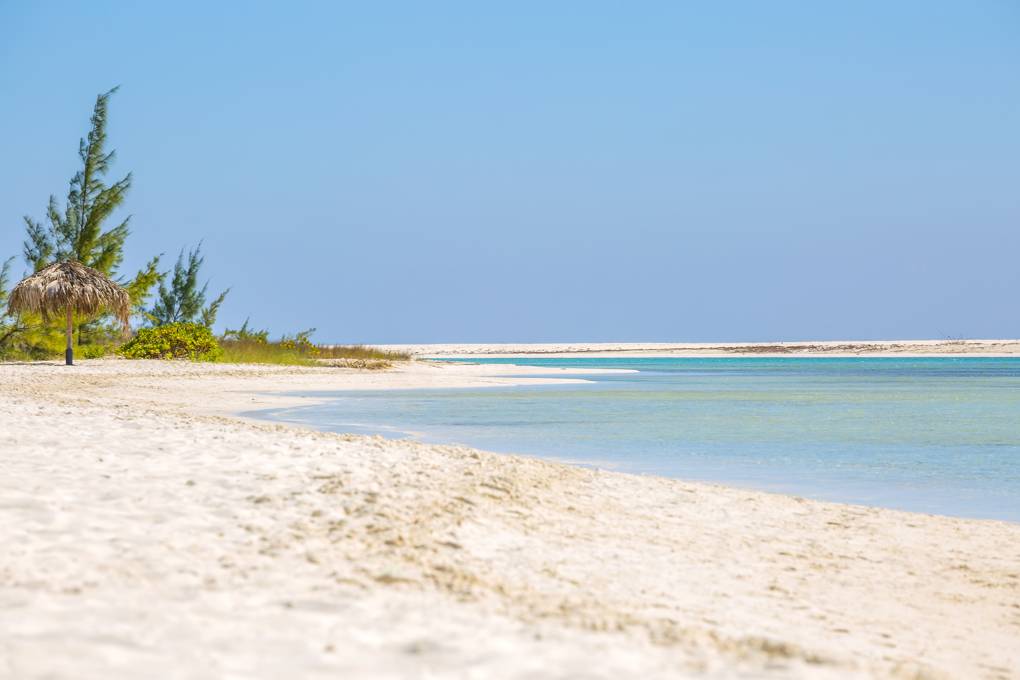 2. PLAYA PARAISO, CAYO LARGO DEL SUR, CUBA
It's likely that Playa Paraiso – stretching across a small island just off Cuba's southern coast – still looks much like it did in 1494, when Christopher Columbus sailed to Cayo Largo on his second expedition to the New World. Its sieved-flour sand and crystalline waters remain pristine, while the nearby reefs offer some of the finest diving in the Caribbean. Warm, calm waters make the beach ideal for paddlers and swimmers, while wildlife-lovers should keep their eyes peeled for iguanas and giant sea turtles. Shade can be hard to come by though, and naturists head to the east end of the beach – so stay west if you prefer to keep things covered up.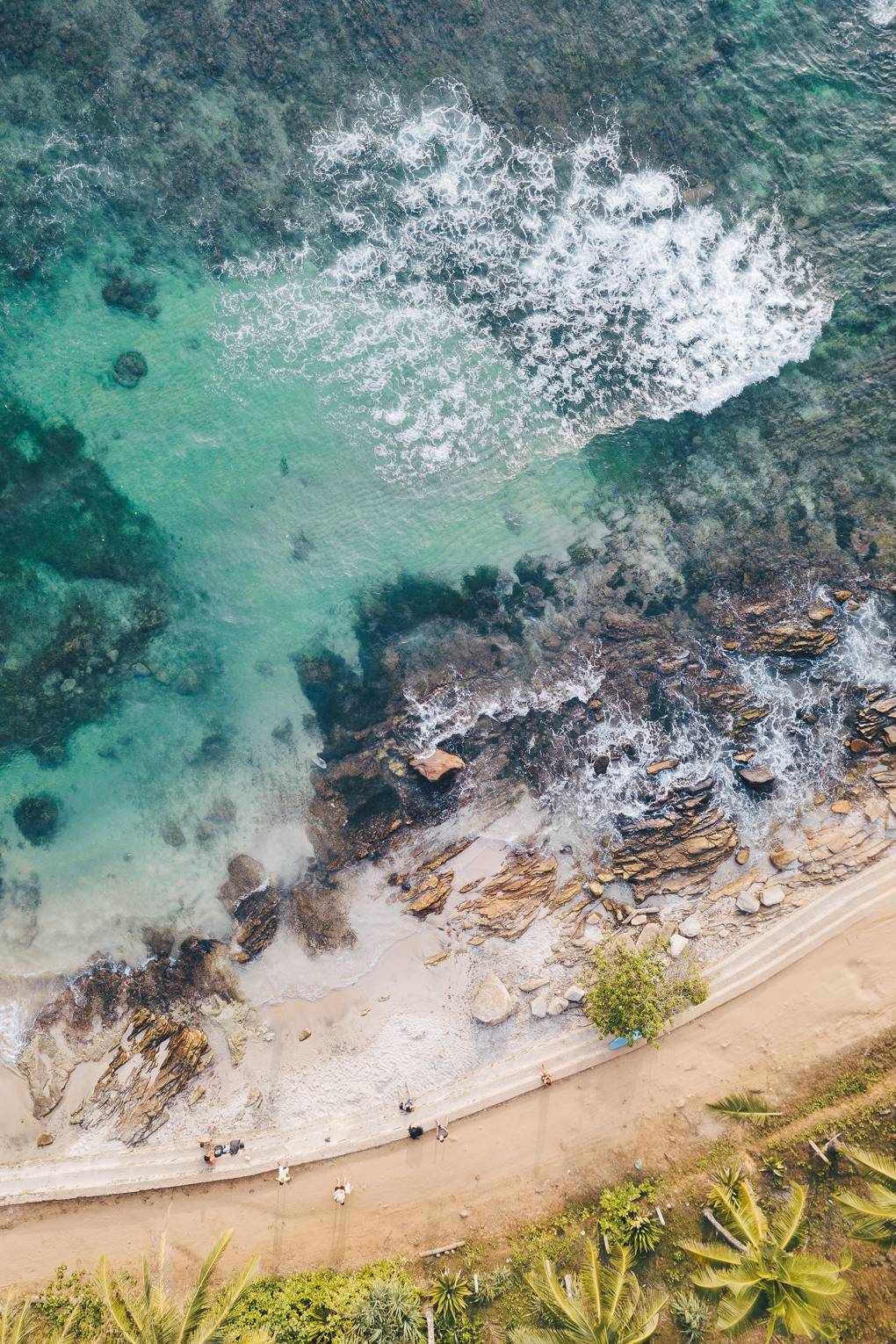 3. HIRIKETIYA, SRI LANKA
The jungle meets the sea at this blink-and-you'll-miss-it horseshoe bay, some 110 miles from Colombo on the southern coast of Sri Lanka. Popular with locals, salty-haired nomads and yogis, 'Hiri' is not the widest nor the sandiest beach in Sri Lanka, but its laid-back surfer sentiment and shacks selling fresh roti and coconuts make it one of the most understatedly vibrant. Fringed by lanky palms, the beach has plenty of shady spots for lazing. In the shallows, you'll find turtles raising their heads like periscopes, while a hike around the headland will take you to often-deserted Kudawella bay (look out for the blowhole on the way; it's the only one of its kind in Sri Lanka).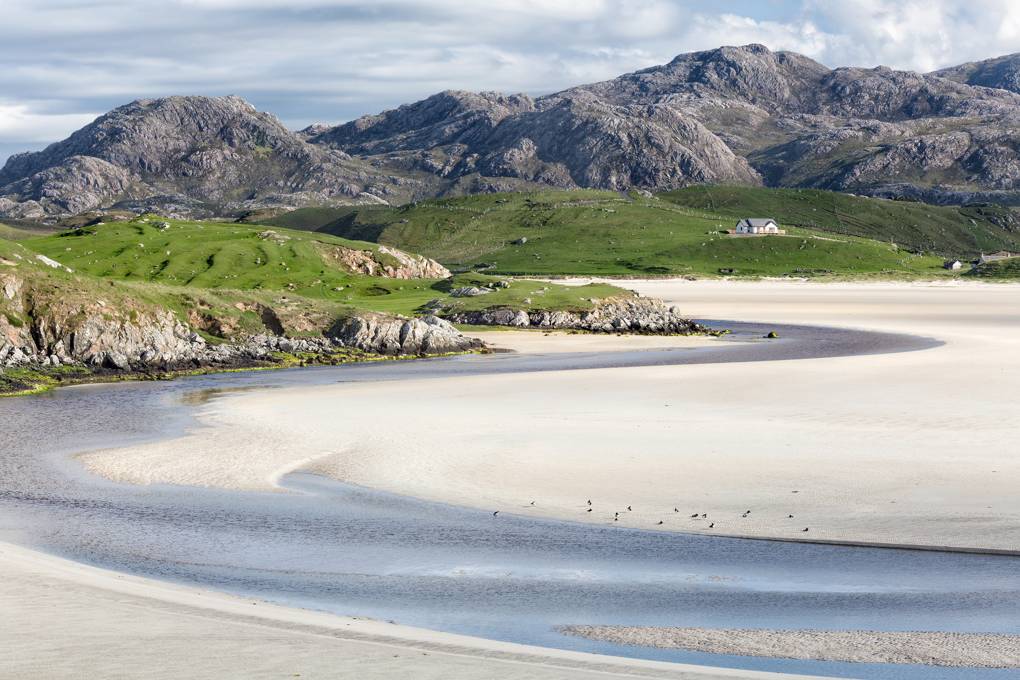 4. UIG SANDS, ISLE OF LEWIS, SCOTLAND
A busy day at Uig is when two people show up at once. Lying some 20 miles west of Stornoway on Lewis's surf-battered Atlantic coast, this is a big, dramatic beach watched over by tussocky dunes and grizzled mountains. The beach itself is famous for being the place where a set of Viking chess pieces – dating back to the 12th century and made from the husks of walrus teeth – were unearthed,, but it has a lot more going for it than just its history. The surrounding machair flower meadows erupt into bloom in June and its enormous uninterrupted stretches of sand are a playground for kite-buggy enthusiasts.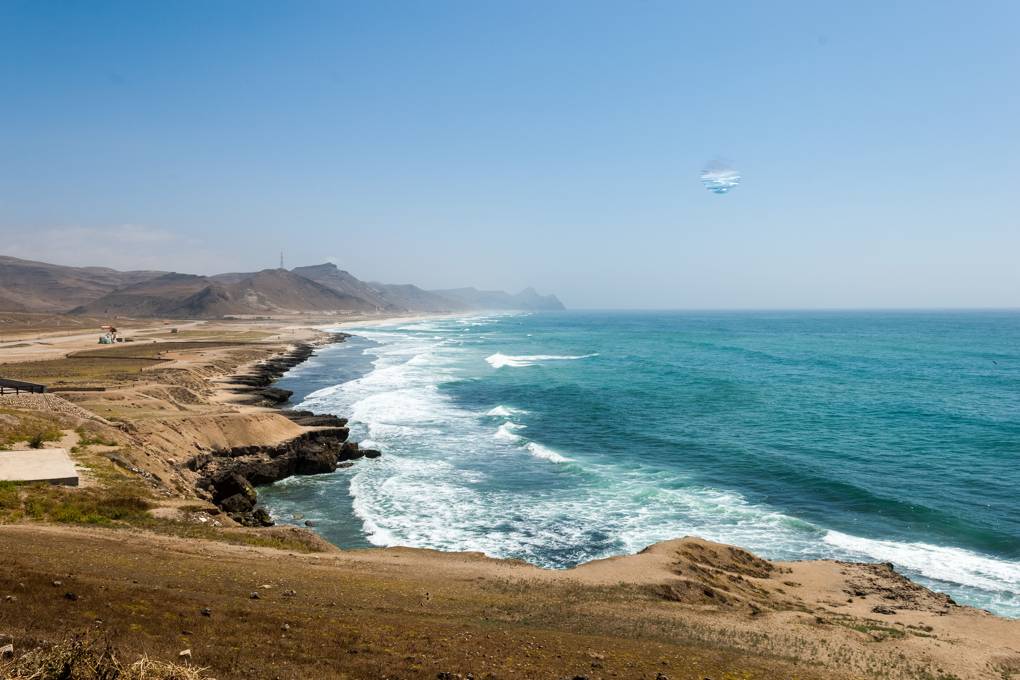 5. AL MUGHSAIL, SALALAH, OMAN
There's something Mad Max-esque about Al Mughsail, with its unflinchingly white sand, parched frankincense trees and cinematic blow holes (especially impressive during monsoon season) which erupt every couple of minutes, shaking the earth and spewing out seawater with a deafening sound. Stretching for four unbroken miles and fringed with sheer limestone cliffs, the beach is lapped by gleaming turquoise water which can get a little choppy at times. That said, it's a wonderful spot from which to watch fishermen pilot traditional dhows just offshore; catch them at dusk for the most dramatic photographs, when they are silhouetted against the treacly Omani sunset.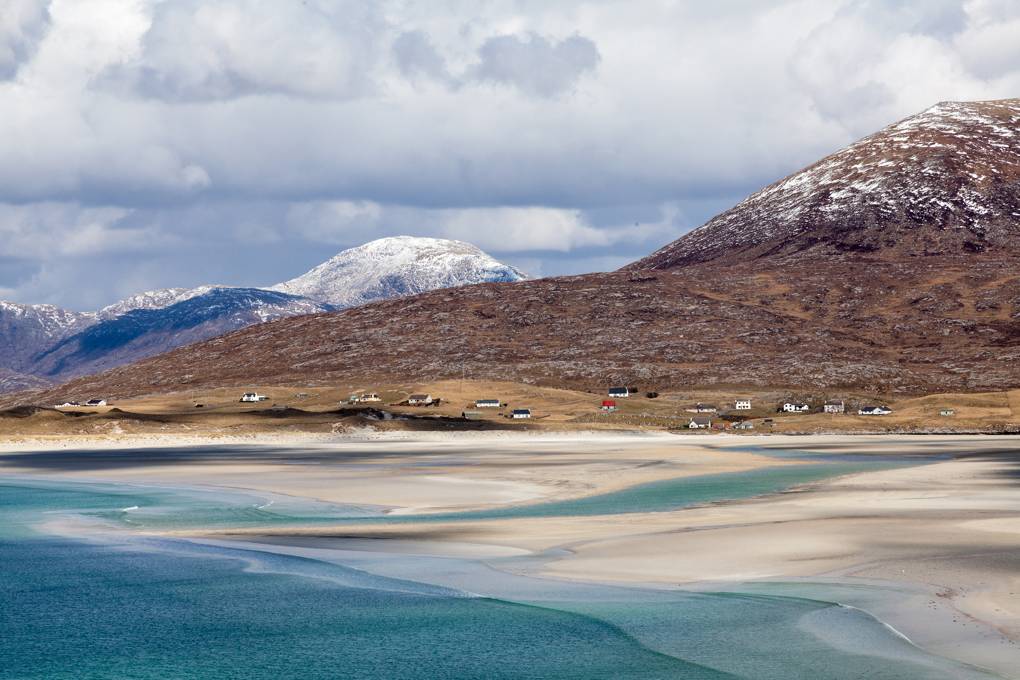 6. LUSKENTYRE, OUTER HEBRIDES
At the end of a winding road on the wind-battered west coast of the Isle of Harris, you'll find something to make your eyes pop. Luskentyre Beach is a paint splash of brilliant white, surrounded by almost impossibly azure water. On a sunny day, it's so unerringly blue you may find it hard to believe you are at a beach in Scotland at all. But regardless of its paradoxically tropical feel, it's at its most beautiful when eel-coloured storm clouds roll in and seas turn flinty, turning this dramatic landscape an eerie monochrome.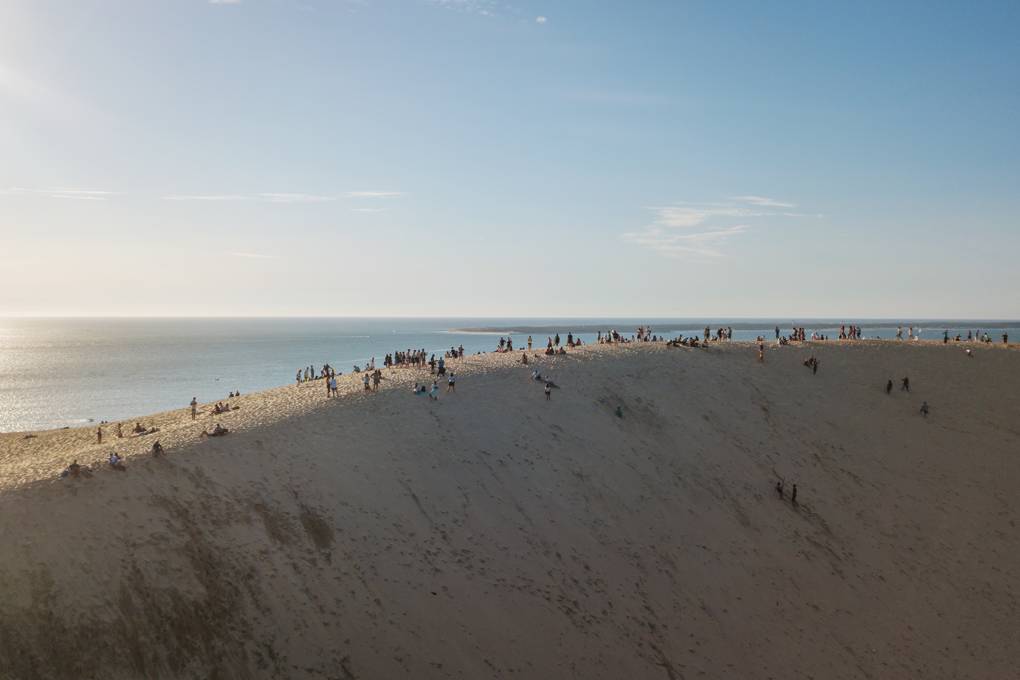 7. DUNE DU PILAT, FRANCE
In the warmer months, Europe's tallest sand dune, just an hour's drive from Bordeaux, is cloaked in a constant, shimmering heat haze, giving the illusion that this sprawling French beach is scattered with gleaming treasure. The sand here, which forms peaks as high as 300 feet, is as finely milled as fresh flour, perfect for sausage-rolling your way down to the tussocky Atlantic shoreline and standing to gaze back at the pine forests behind the beach. The surrounding Arcachon Bay holds miles of beaches ripe for exploring, and you'll find a jumble of huts nearby where fishermen set up tables to sell oysters, pâté and prawns.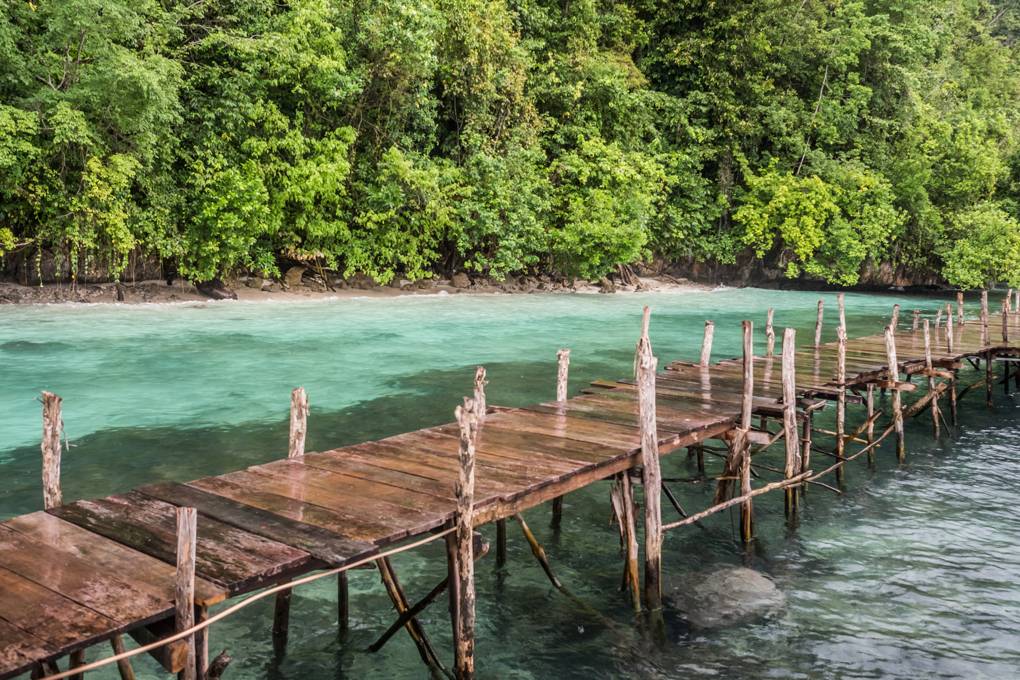 8. ORA BEACH, INDONESIA
With a higgledy-piggledy 37,000-mile coastline (the world's second longest), Indonesia has a glut of beautiful beaches. One of its finest is Ora, snuggled away on the north coast of sparsely populated Seram island. The area is known as Indonesia's Little Maldives due to its agate seas and white-sugar beaches, but the island still retains something of a wild feel. Seram sits amid several tectonic plates, meaning that the surrounding landscape varies cinematically, from lush, bird-speckled tropical rainforest to ogre-like mountains.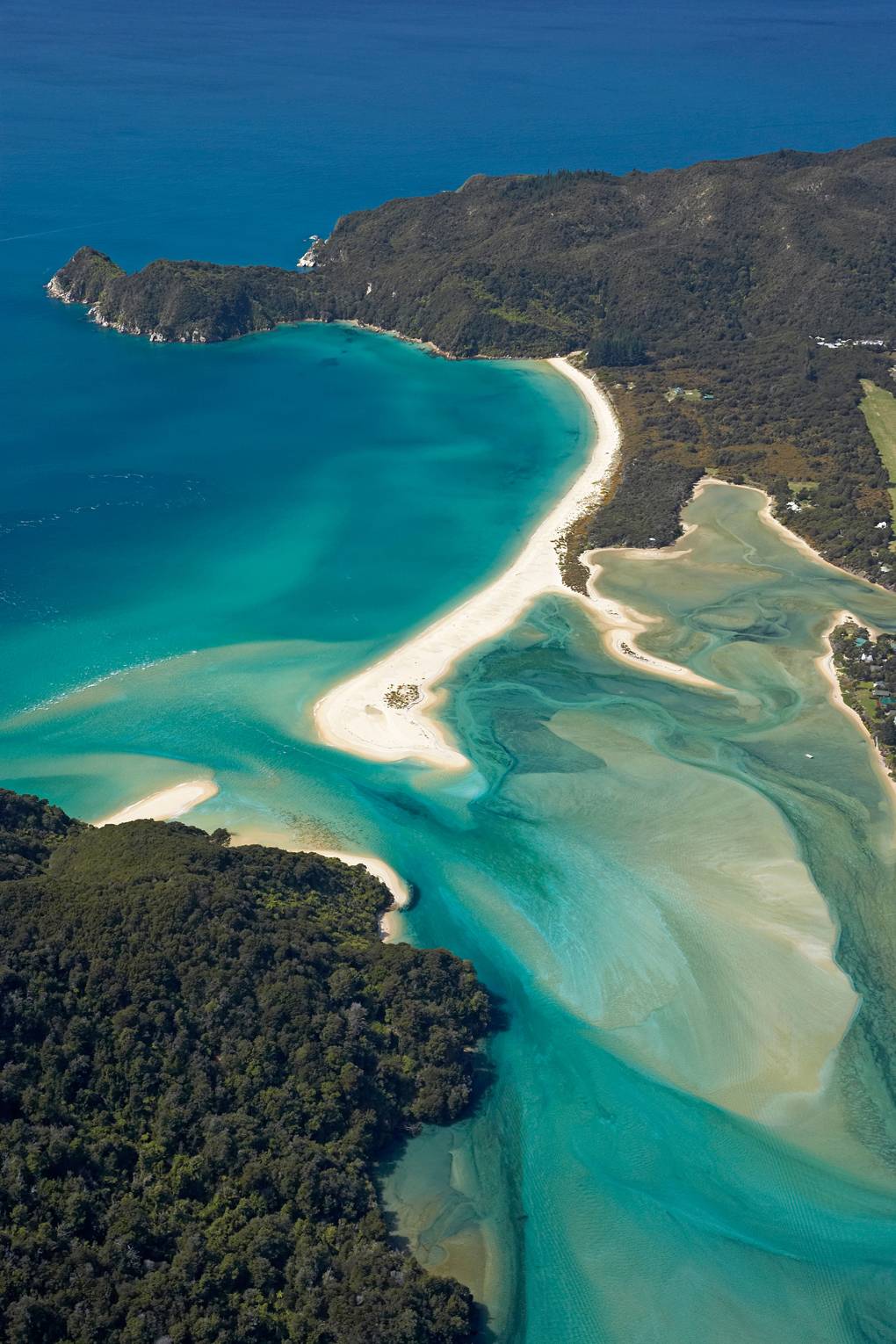 9. AWAROA, SOUTH ISLAND, NEW ZEALAND
Set deep in the heart of New Zealand's glorious Abel Tasman National Park, Awaroa is hemmed in by clover-green native bush and seas that sparkle like freshly blown glass. Most visitors come here either by water – swooshing in on kayaks or small boats – or on foot, to ramble around the park's lush forests. It has an important place in the hearts of the locals, who banded together to crowdfund the purchase of the privately held beachfront when it came up for sale in 2016, thus giving this pretty part of the planet the nickname the 'People's Beach'.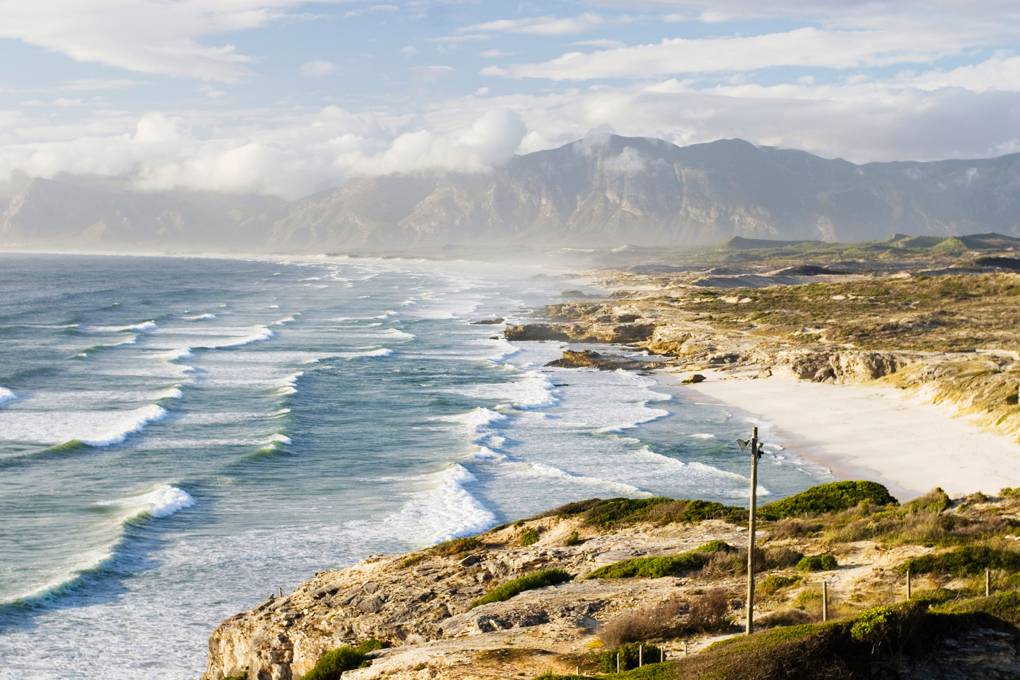 10. DIE PLAAT, WALKER BAY NATURE RESERVE, SOUTH AFRICA
Don't be surprised to spot the occasional southern right whale wallowing offshore at Die Plaat, a ruggedly beautiful swath of sand fringed by rocky limestone outcrops near Hermanus, South Africa's whale capital. Chubby seals slouch on the rocky shoreline here, and you'll find the ground littered with huge, pearlescent abalone shells. There's history to be courted in these wind-whipped sands as well; the beach is home to Klipgat Cave, a bat-filled cavern where late Middle Stone Age people lived up to 85,000 years ago (keep your eyes peeled – you may even spot ancient tools on the ground).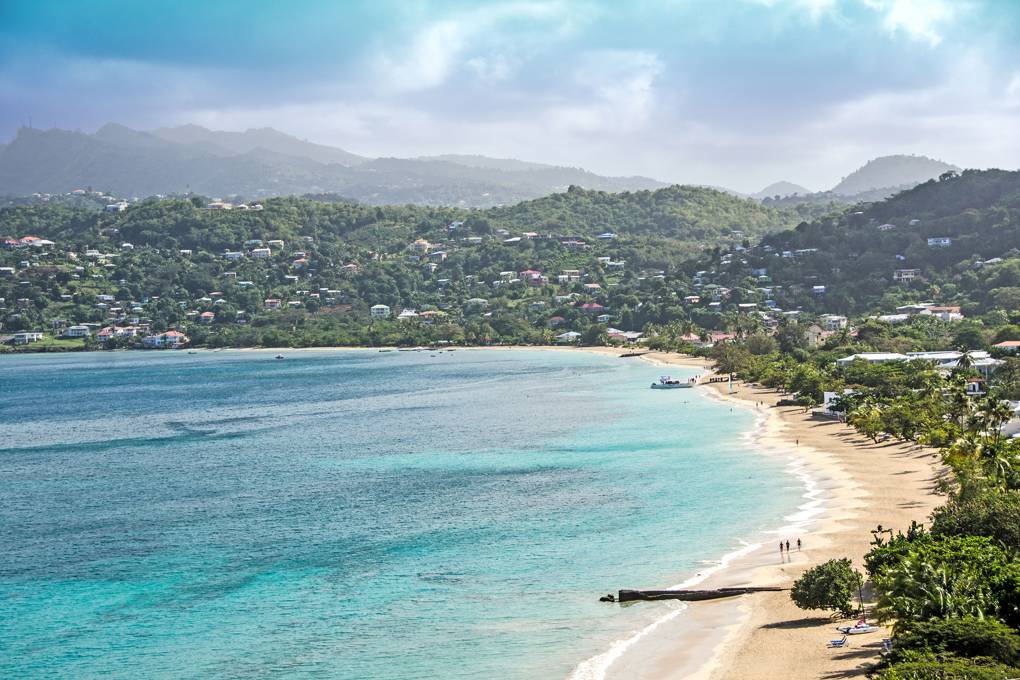 11. GRAND ANSE, GRENADA
You'll find no shortage of beautiful beaches in Grenada, but tranquil, sheltered Grand Anse is one of the best. Two miles of milky-white sand on the western, leeward side of the island, it's a short water-taxi ride from the capital of St George's, and is overlooked by some of Grenada's finest hotels. You won't want for anything here, whether it's goblet-sized G&Ts, market stalls or seahorses that swoosh around snorkellers.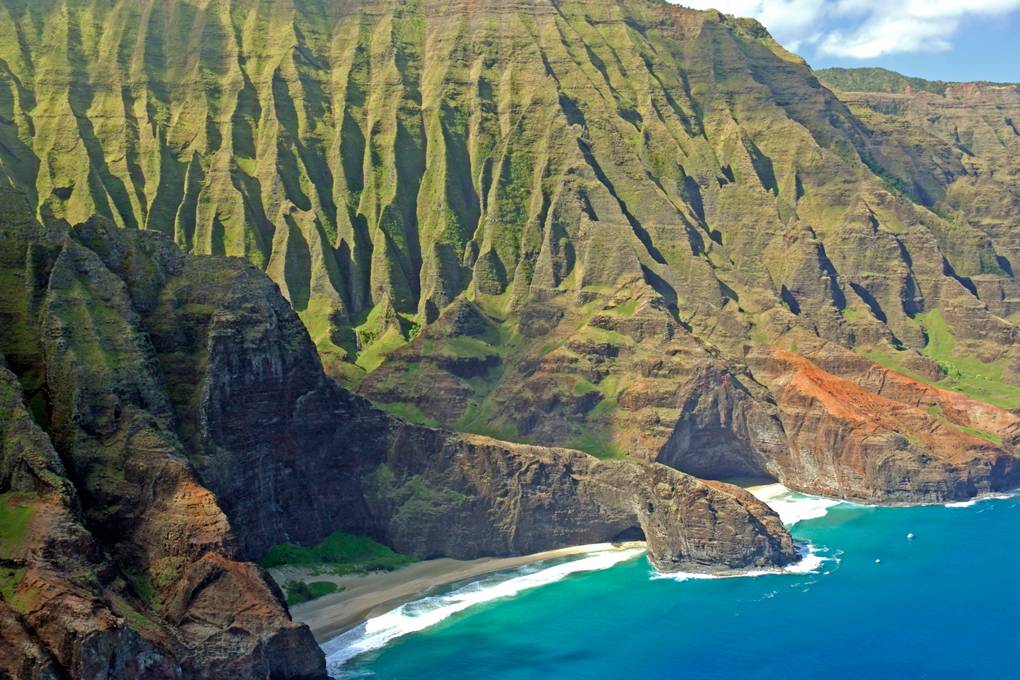 12. HONOPU BEACH, KAUAI, HAWAII
The only (legal) way to reach remote Honopu is by water, meaning you have to swim from an offshore boat, or from neighboring Kalalau Beach, a quarter of a mile away (fins are a must). But given that the cayenne-coloured cliffs and smooth sands of this isolated spot provided the backdrop for Raiders of the Lost Ark and King Kong, the schlep is cinematically worth it. Since the valley is so isolated, it is also believed to be spiritual, and served as an ancient burial ground for local chiefs.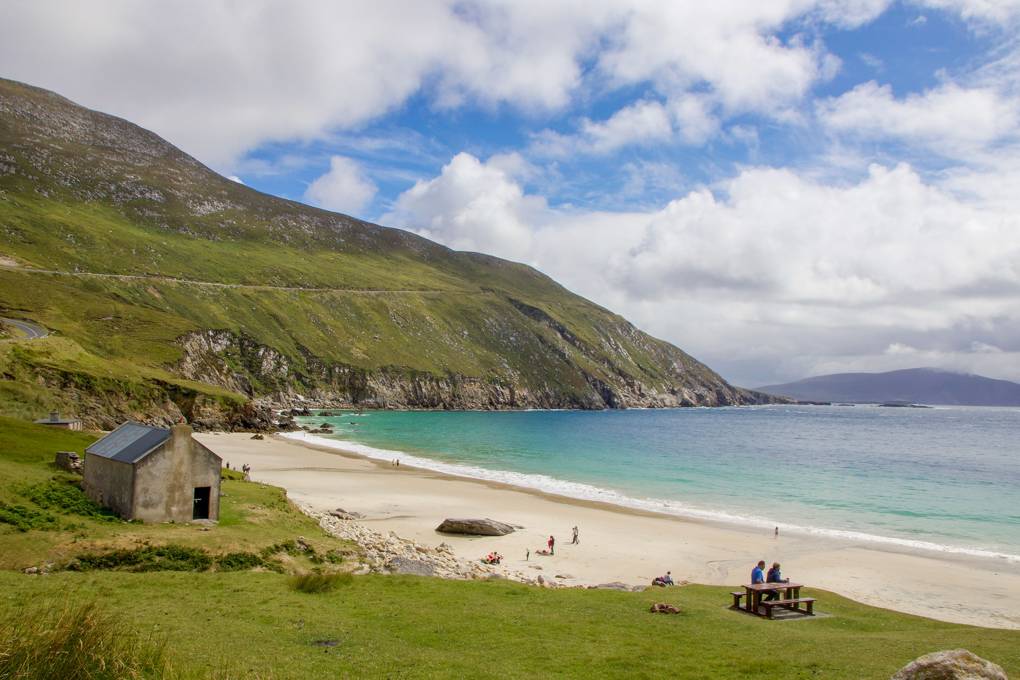 13. KEEM BAY, ACHILL ISLAND, IRELAND
It's a windy road to Keem Bay, but the staggering cliff-top views are worth it. This sheltered inlet, on Achill Island in County Mayo, is almost unknown to visitors, but its clear malachite waters and soft biscuit sand make it a family-friendly spot – that's also wonderfully crowd-free. Bring binoculars for spotting basking sharks; in warmer months you'll find herds of ice-cream vans in the car park.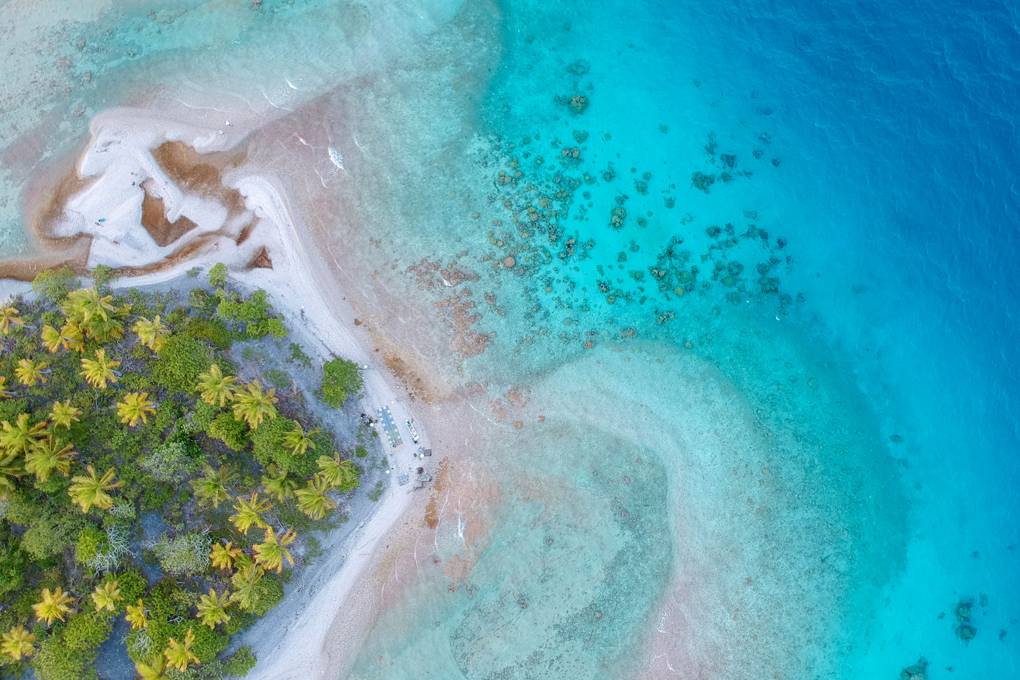 14. FAKARAVA, FRENCH POLYNESIA
With its collection of easily accessible white and pink sand beaches, Fakarava – one of the largest atolls in French Polynesia – is one of the best snorkelling locations in the world, with consistently warm waters. While the sea is a safe haven for rare fish, fluorescent corals and 'walls' of sharks that pass close by the shore, the unblemished beaches have a claim to fame as the inspiration for Matisse's bleu period. The artist spent three months in nearby Tahiti in 1930, and was enthralled by the lagoons' infinite blues.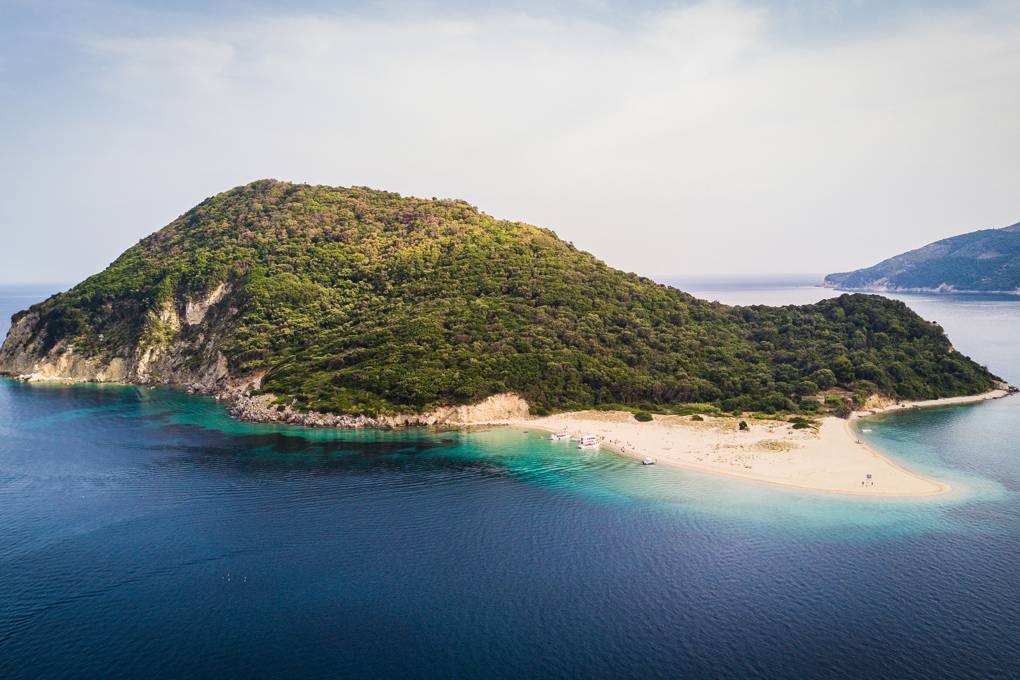 15. MARATHONISI, ZAKYNTHOS, GREECE
Better known as Turtle Island, the spotless white-sand islet of Marathonisi is a vital nesting spot for endangered loggerhead sea turtles, meaning visitors must stay within five metres of the water to avoid disturbing them. Fill your lungs with the pine-scented air before exploring the surrounding sea caves by snorkel or boat but be sure to bring supplies: you'll find nothing on this Greek Island beach but seals, turtles and forests.
Read More: cntraveller