Rihanna's style is one that we could only dream of emulating. The girl can make anything look good. FACT. But have you ever wondered what her secret is?
As we're sure she'd admit herself, the answer is very simple. She doesn't give a damn.
If Rihanna wants to wear a satsuma orange mini dress, she will.
ADVERTISEMENT
If Rihanna wants to clash her bright red hair with a purple jumper, coral trousers and metallic gold shoes, she will.
If Rihanna wants to wear a canary yellow Guo Pei gown with such a dramatically spherical sweeping cape to the Met Gala and confidently laugh off the omelette/pizza/Spongebob memes that surface almost immediately, guess what? She will, and she did.
But it's not just her high end red carpet looks that have catapulted her sartorial reputation, she's just as fearless when it comes to her off-duty wardrobe too.
Whether she's wearing nothing more than a baggy t-shirt and tights, a classic denim mini skirt and shirt, or even a full camo puffer look – Rihanna nails it in the wardrobe department every time she puts an outfit on in the morning. And the sole reason for that is her confidence to wear whatever she likes, regardless of trends and the media scrutiny of her 'fluctuating body type' (which she honestly and refreshingly described in an interview with The Cut as a 'pleasure').
An undisputed fashion icon, as Rihanna turns 33 this weekend, we browse the star's most epic ensembles from the low-slung hipster jeans of the early 00s to her many red carpet showstoppers and every oversize look of hers that we've ever been desperate to emulate…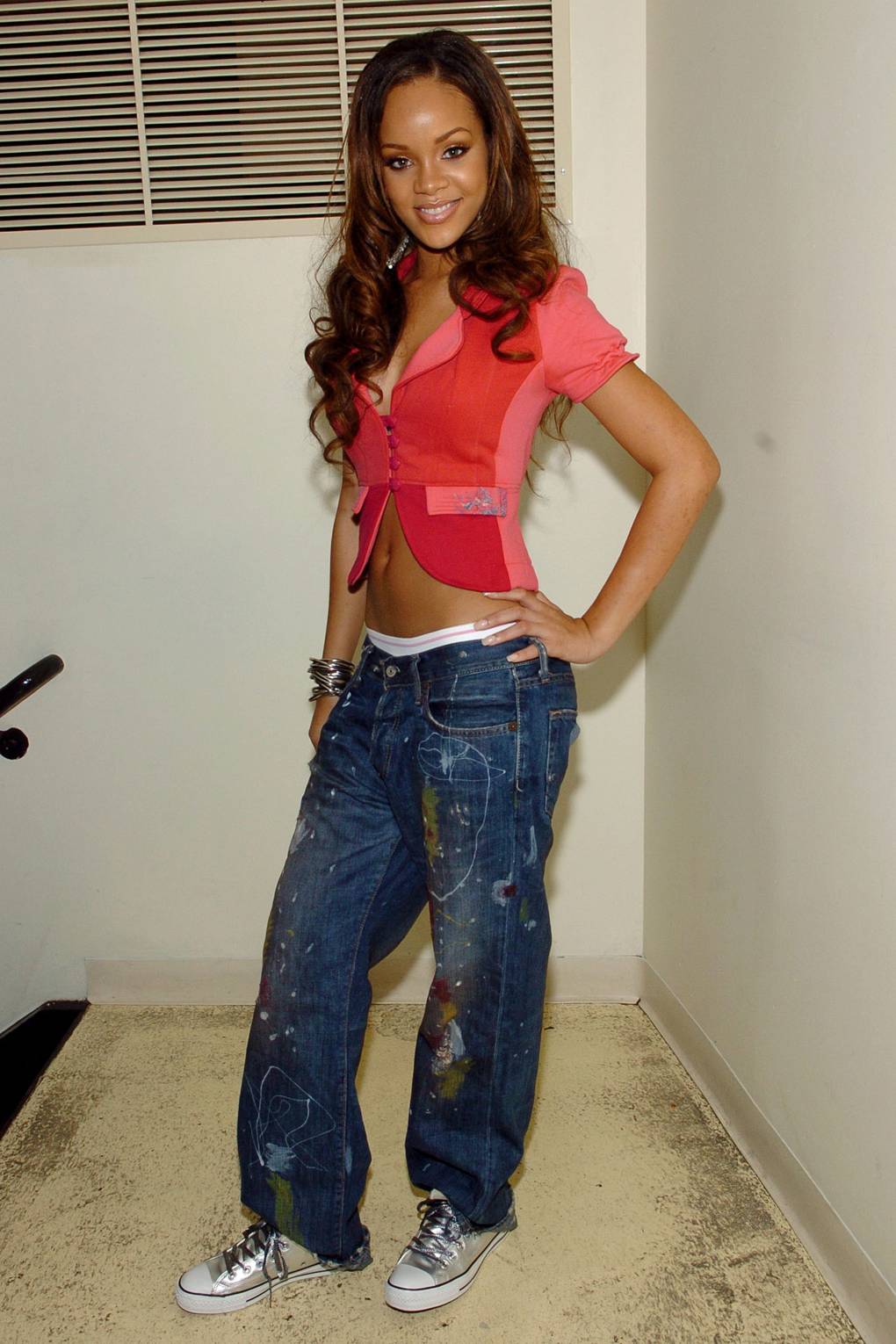 Believe it or not, Rihanna was only 17 when this snap was taken. Signed up to Def Jam recordings by Jay-Z in 2004, it was only a year later that she released chart-busting album Music Of The Sun and burst onto the international fame stage – funky, urban style in tow.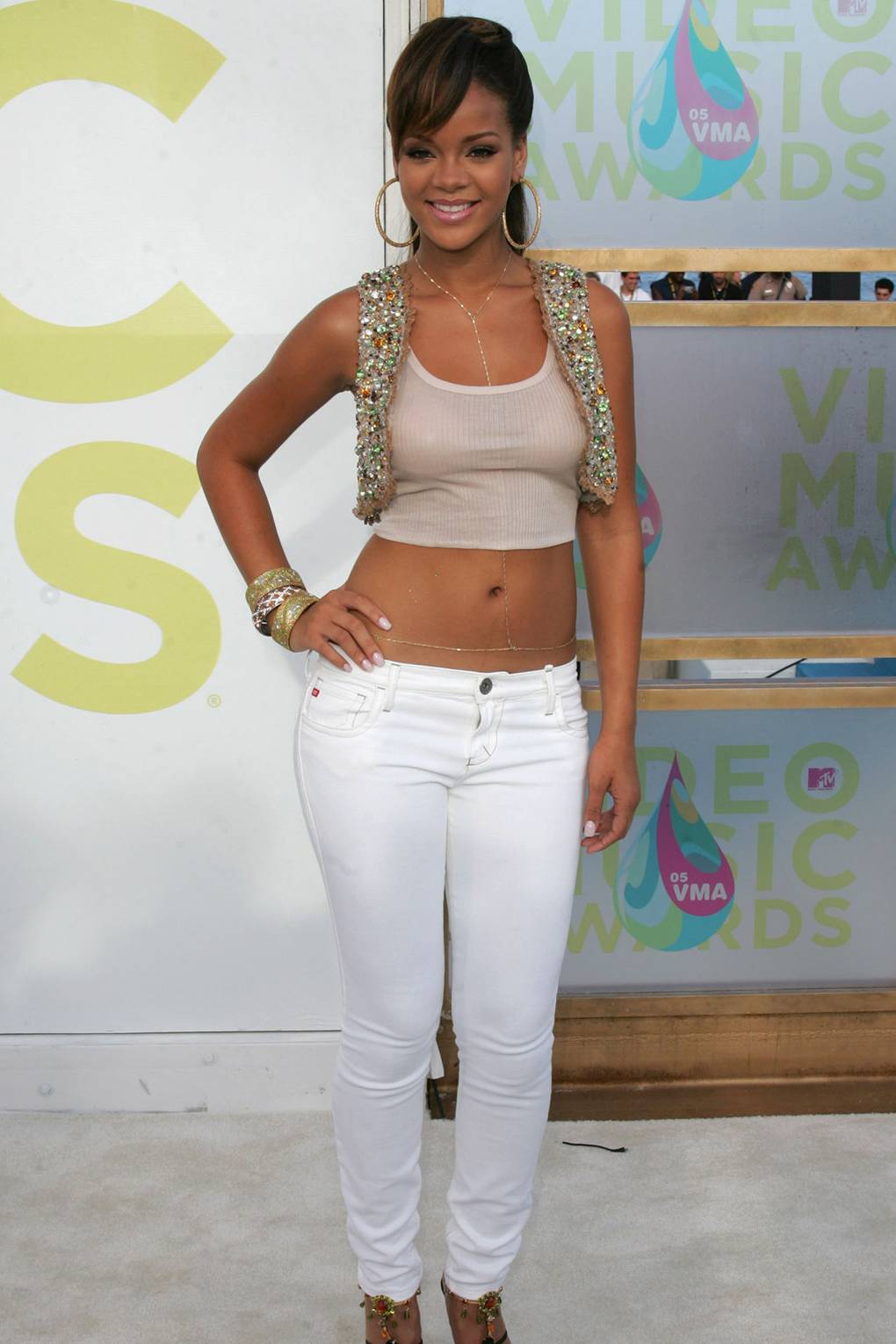 In the pre-Umbrella days, it was a wholesome, Island-girl image RiRi was working. White jeans, hoop earrings and a tube top were her choice for 2005's MTV Awards.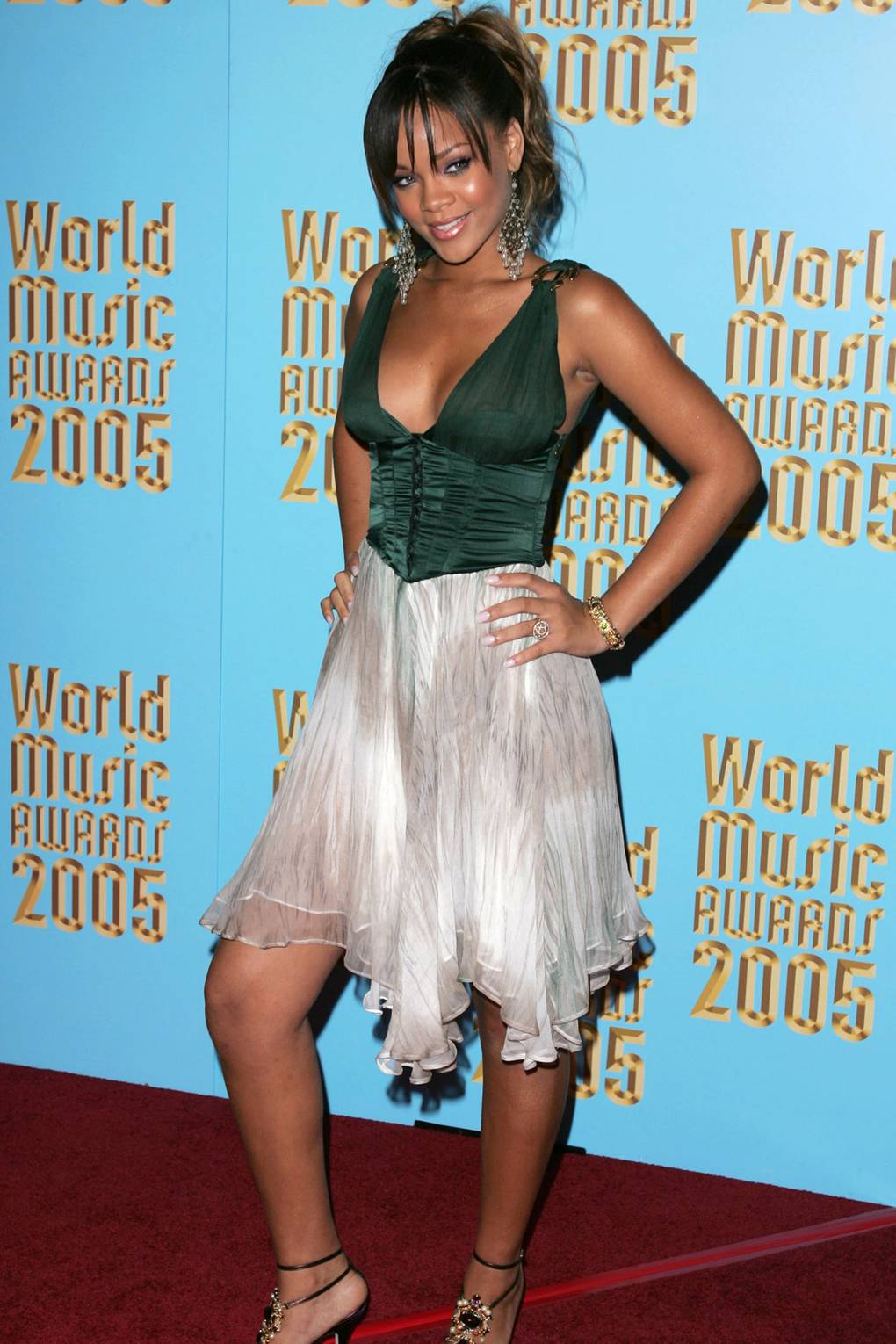 She's an intrepid fashion force now, but back in 2005 Rihanna was playing it safe in neutral make-up, simple ponytails and oh-so over, boho-inspired dresses.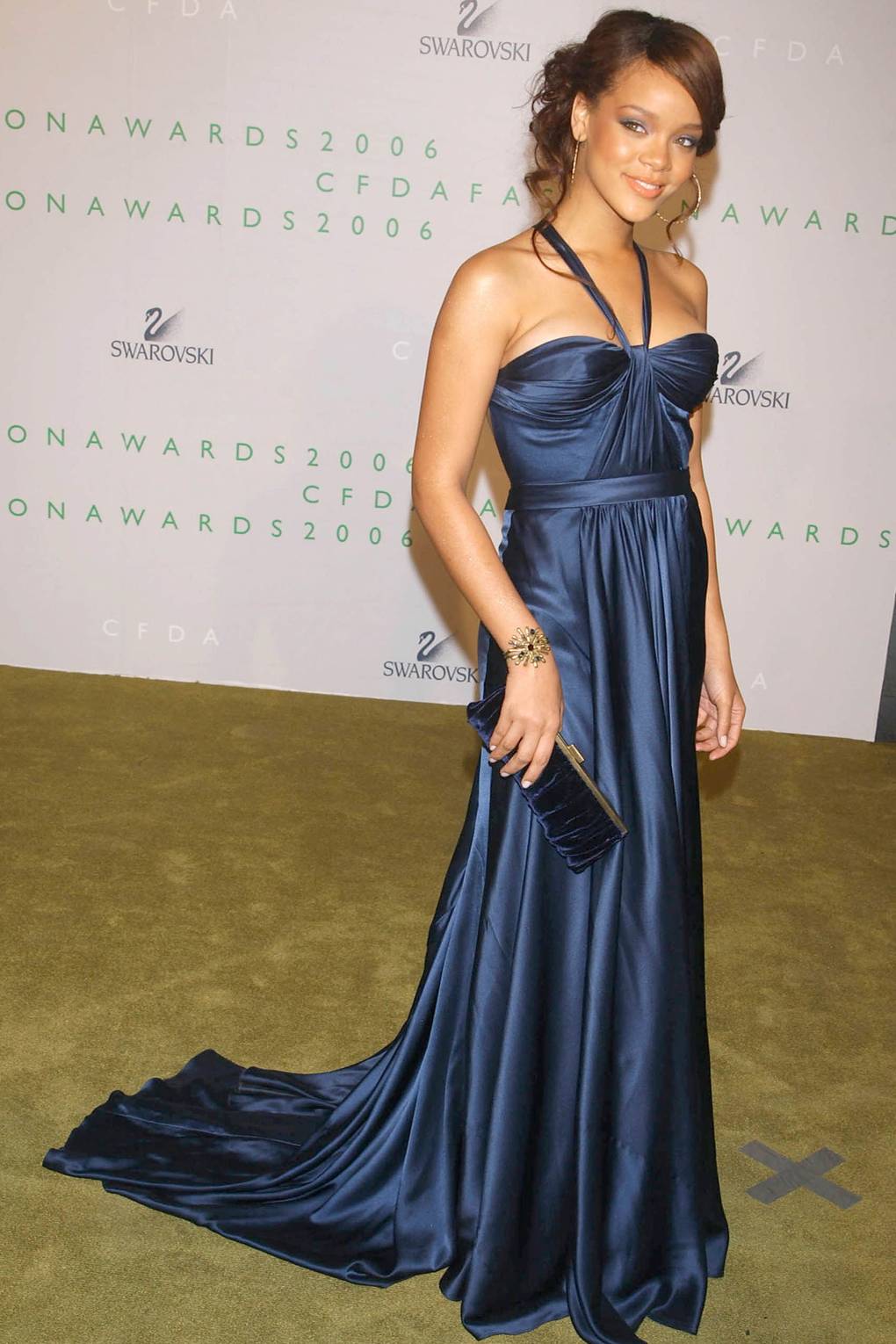 2006 saw GLAMOUR.com girl crush Rihanna release album Girl Like Me and single SOS, which really catapulted her into the big time. A new album meant a new look: she began championing a more sophisticated, polished image.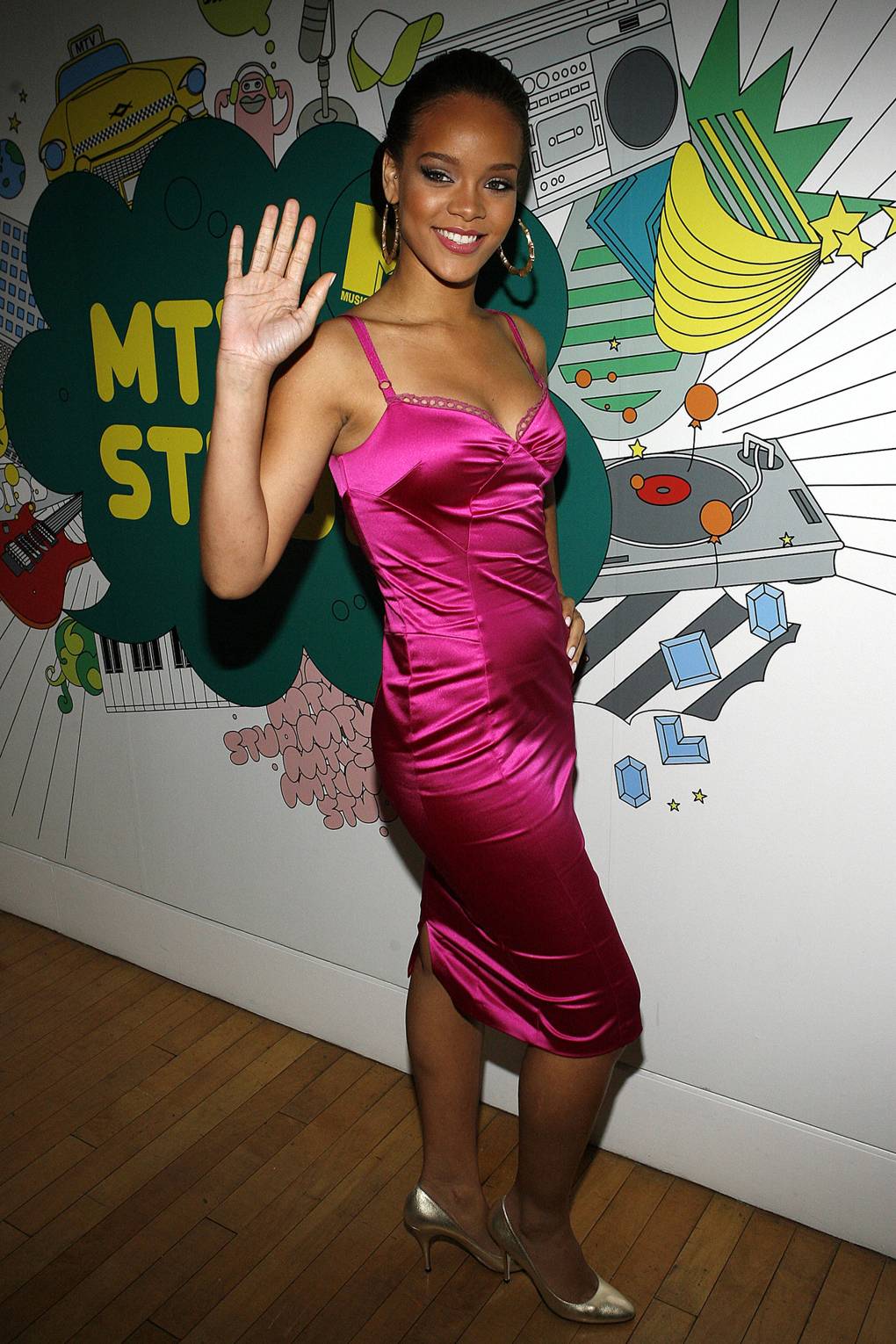 Lucky RiRi turned hot pink from fashion faux pas to fashion fabulous, thanks to a killer bod and gorgeous complexion, later that year.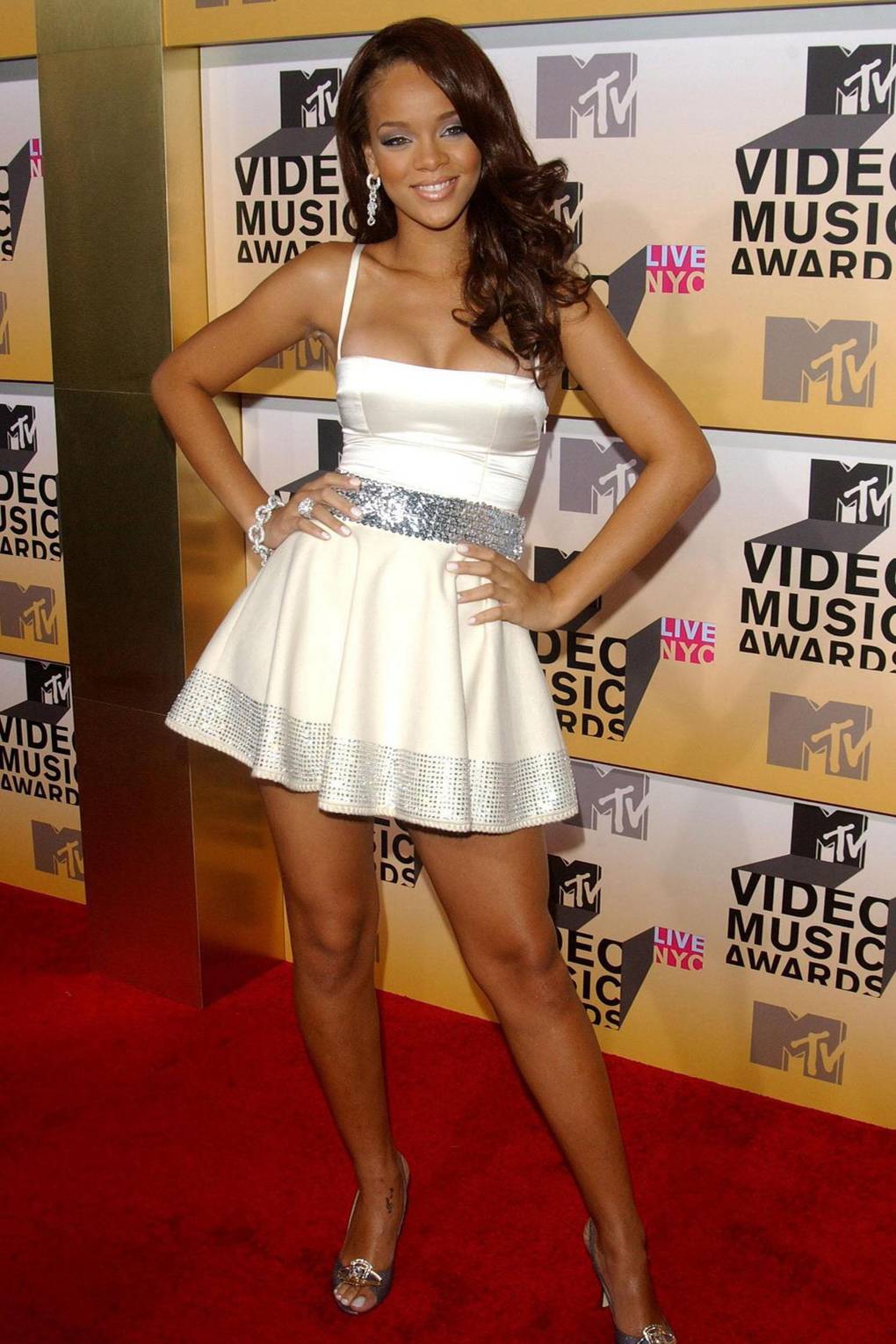 For the MTV VMAs in 2006, we can't help but feel that Rihanna was a little too princess-perfect in this diamanté-encrusted prom dress and heavily coiffed waves.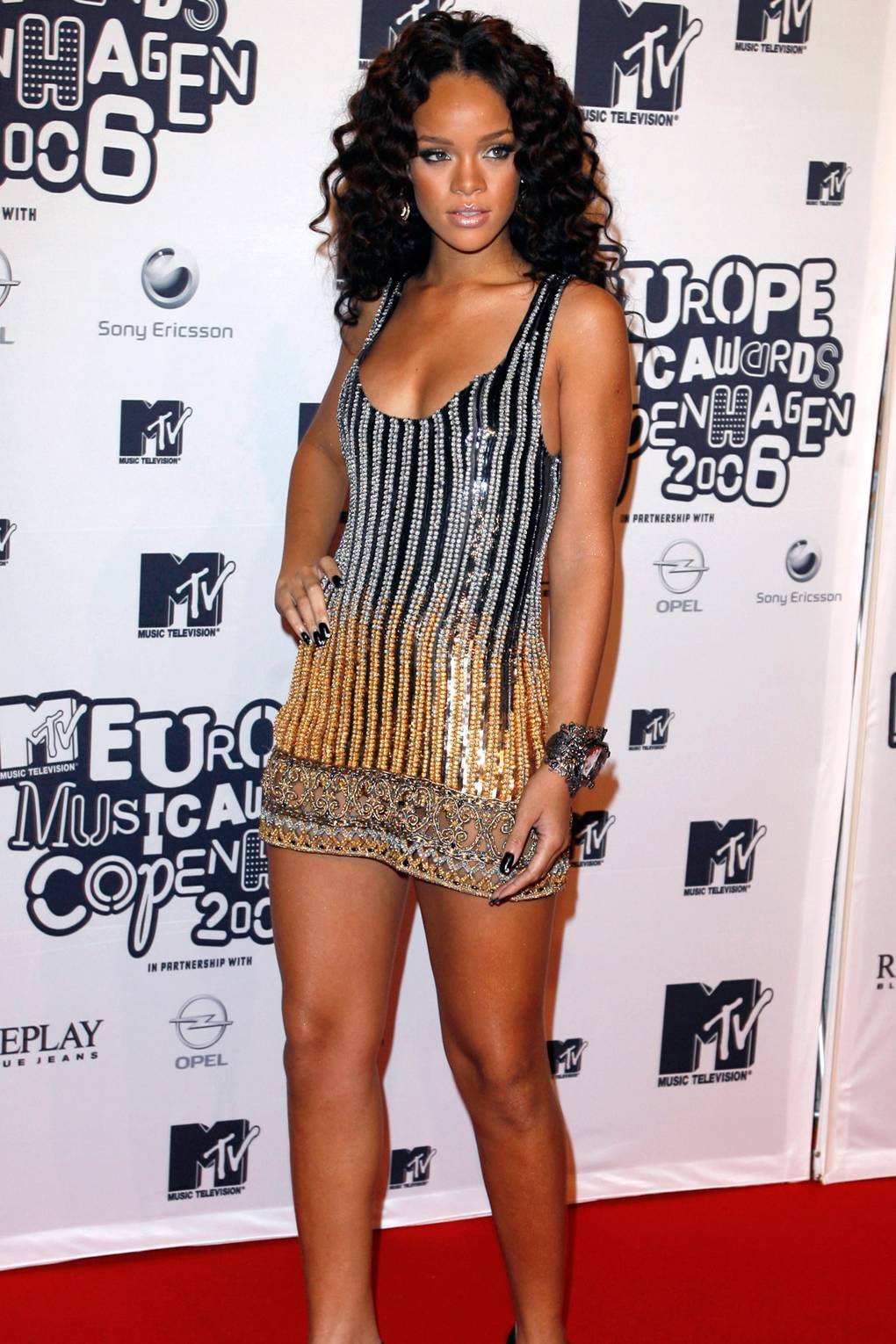 Channelling Diana Ross – and alleged rival Beyoncé – Rihanna worked biiiig hair with a tiny dress for a 2006 red carpet stint.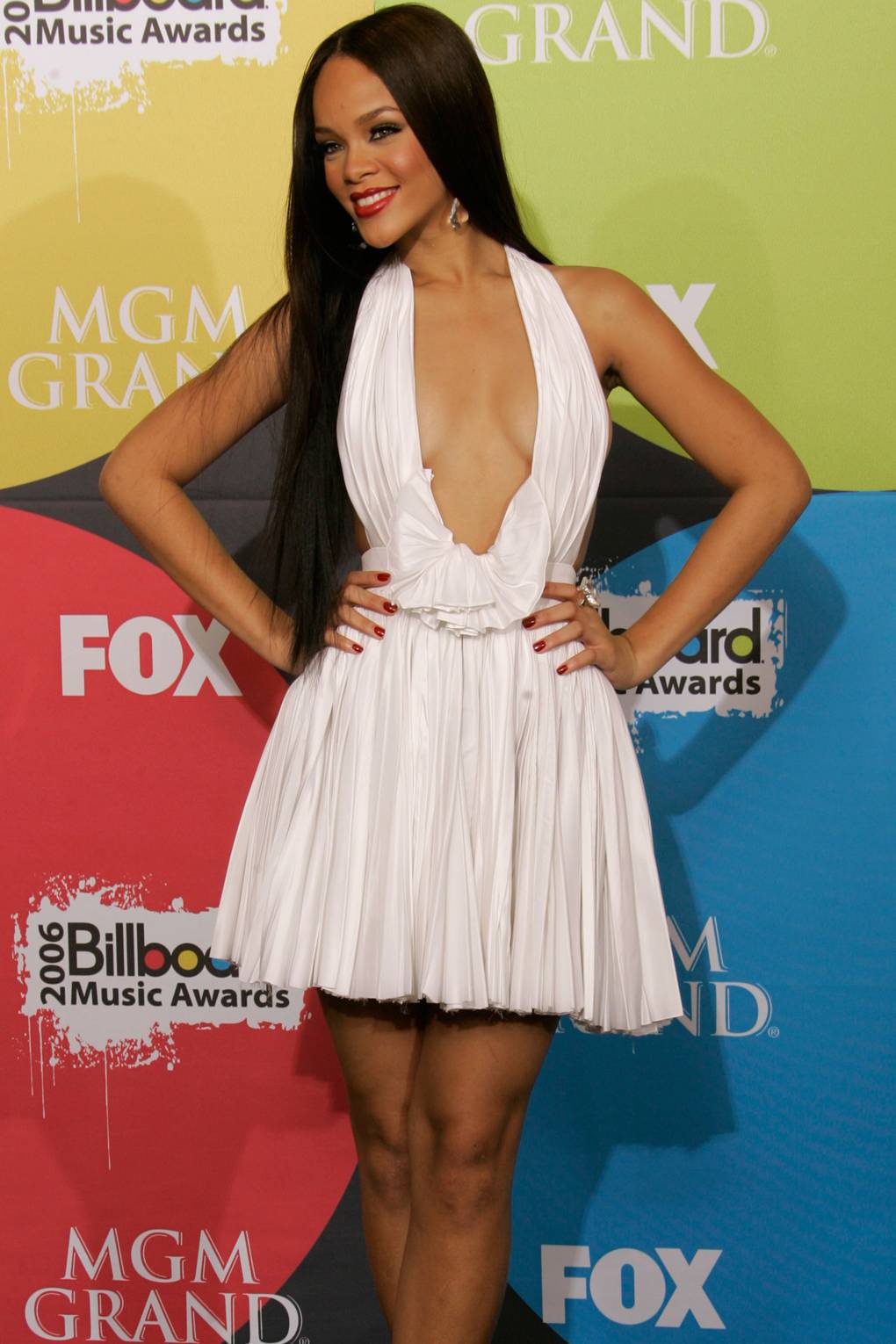 Look out world, there's a major Rihanna image overhaul on the horizon! Our girl gave us a glimpse of the grown-up glamour puss to come in this subtly sexy white mini dress and siren red lips in December 2006.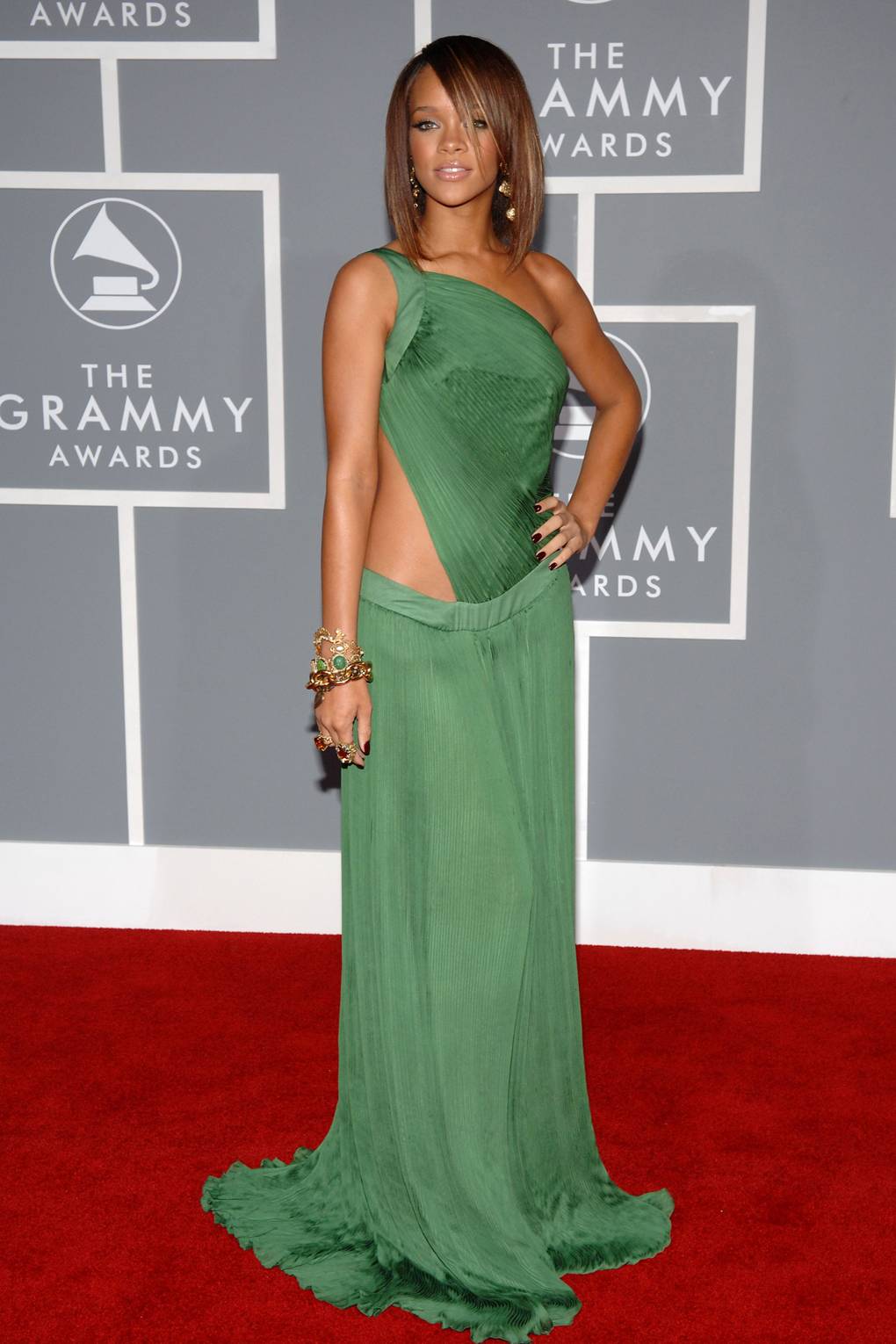 Boom! Starting with a headline-grabbing new bob, Rihanna kicked off 2007 with a bang in Roberto Cavalli at the Grammys…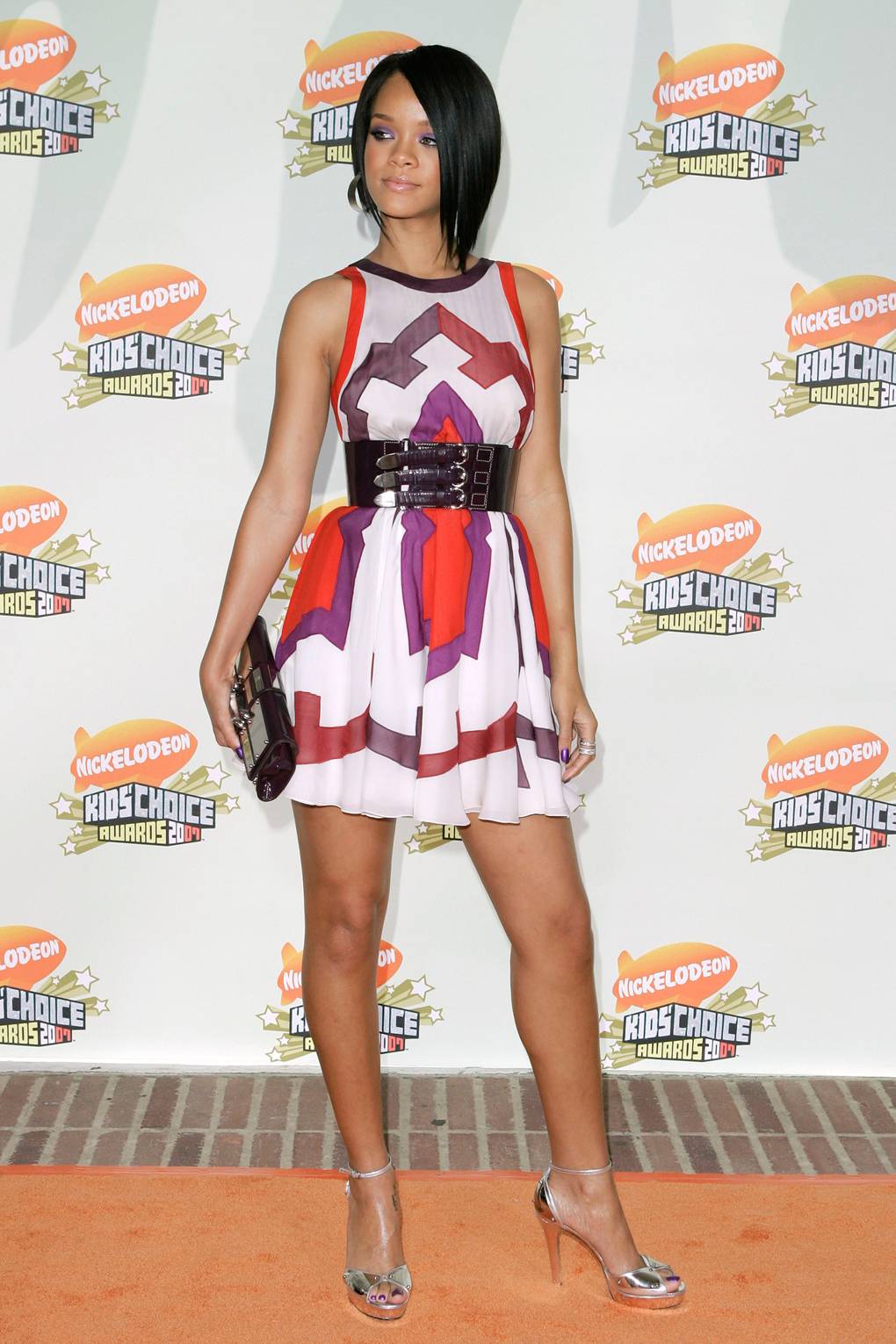 …and another album. We couldn't listen to the radio for more than ten minutes without hearing the ubiquitous Umbrella – and this raven-black, side-parted crop became every hairdresser's most requested chop that year. (That Gucci dress, we could only dream about.)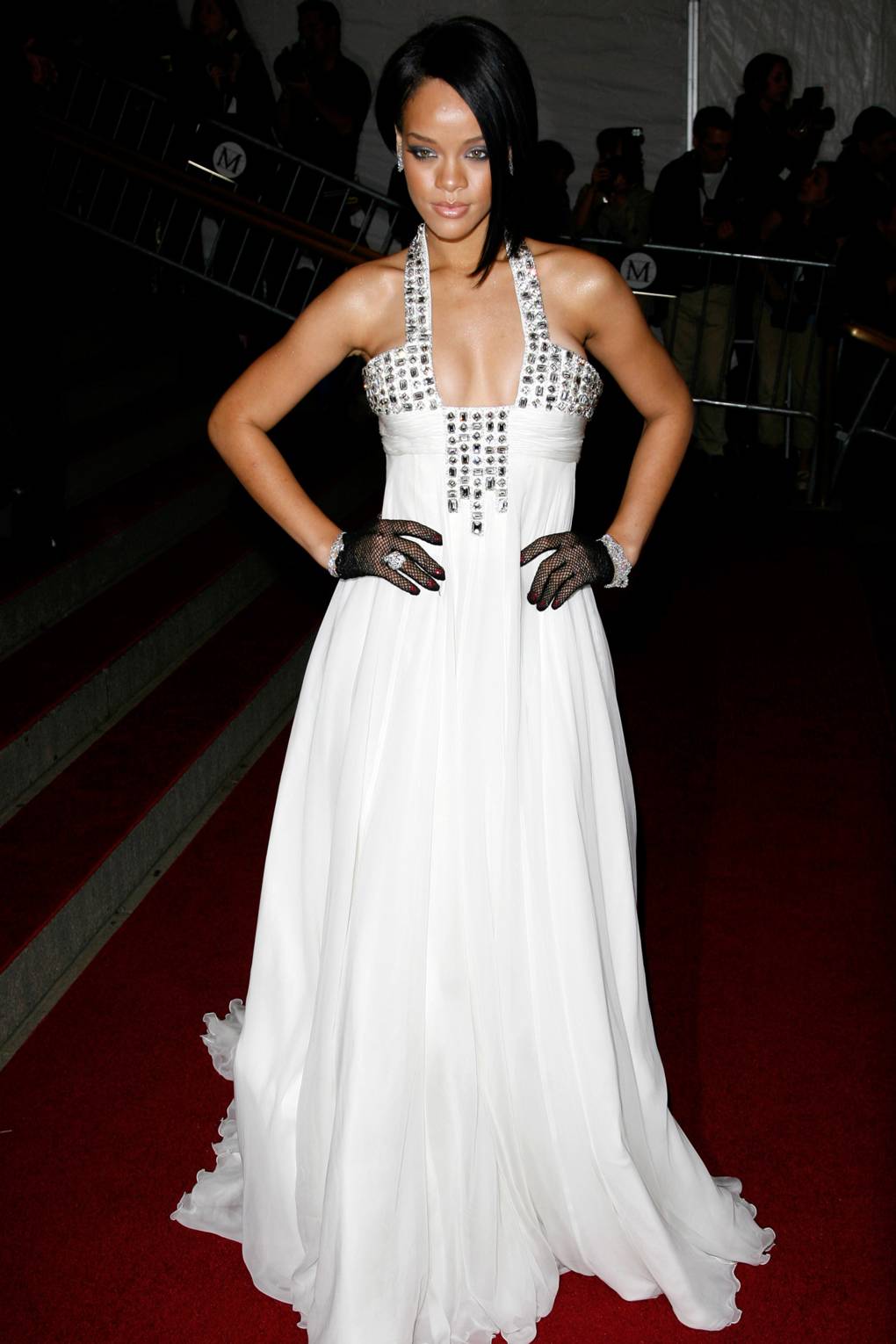 Sexier, edgier and more directional… As her latest record declared, this good girl had officially gone bad. Working with famed fashion stylist Mariel Haenn, Rihanna started carving out a brand new image for herself in 2007.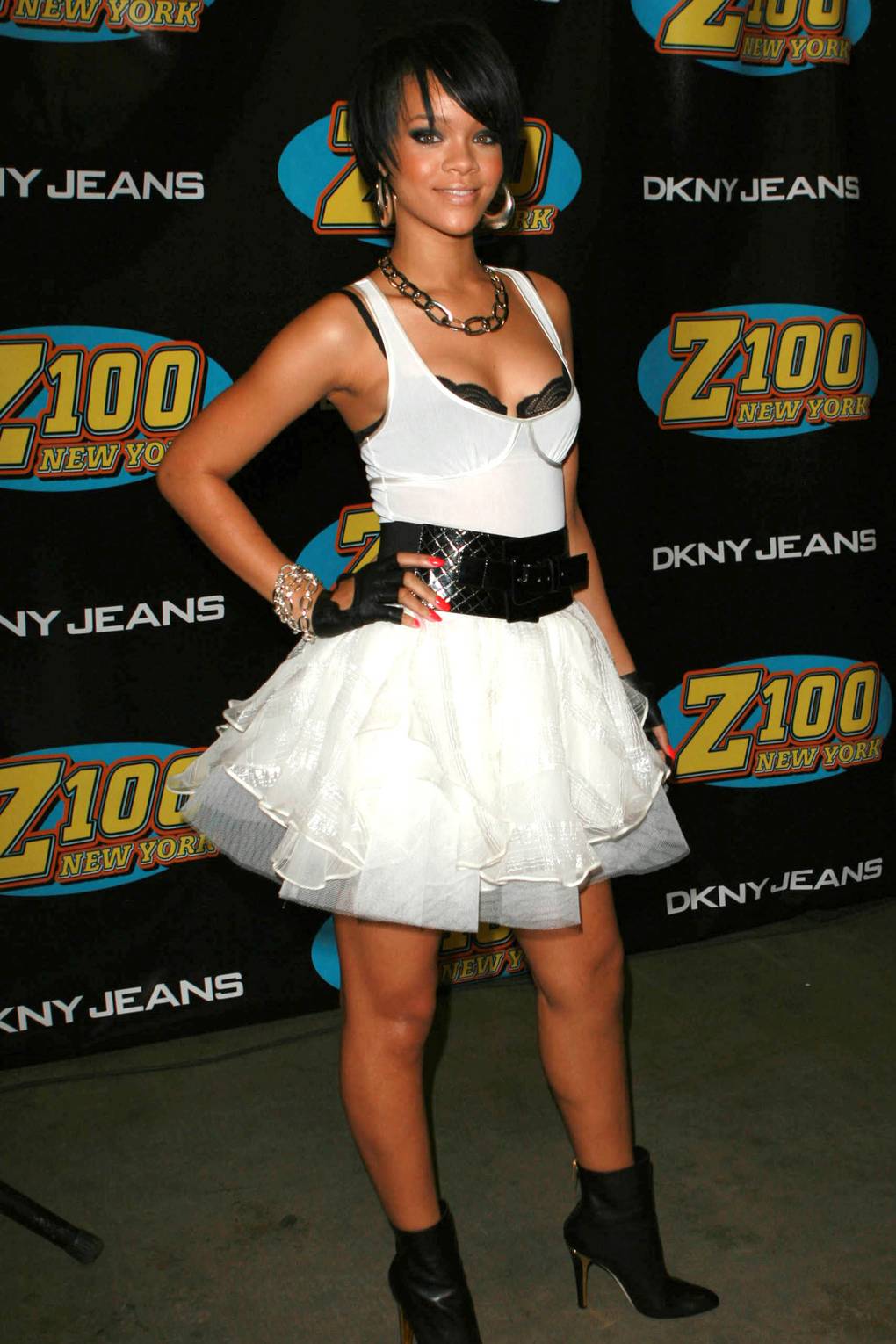 But in the early days, there were a few hiccups. This punky prom queen look that she wore to a New York party left the style critics shouting, 'don't try so hard!' at the fledgling fashionista. Madonna-tastic!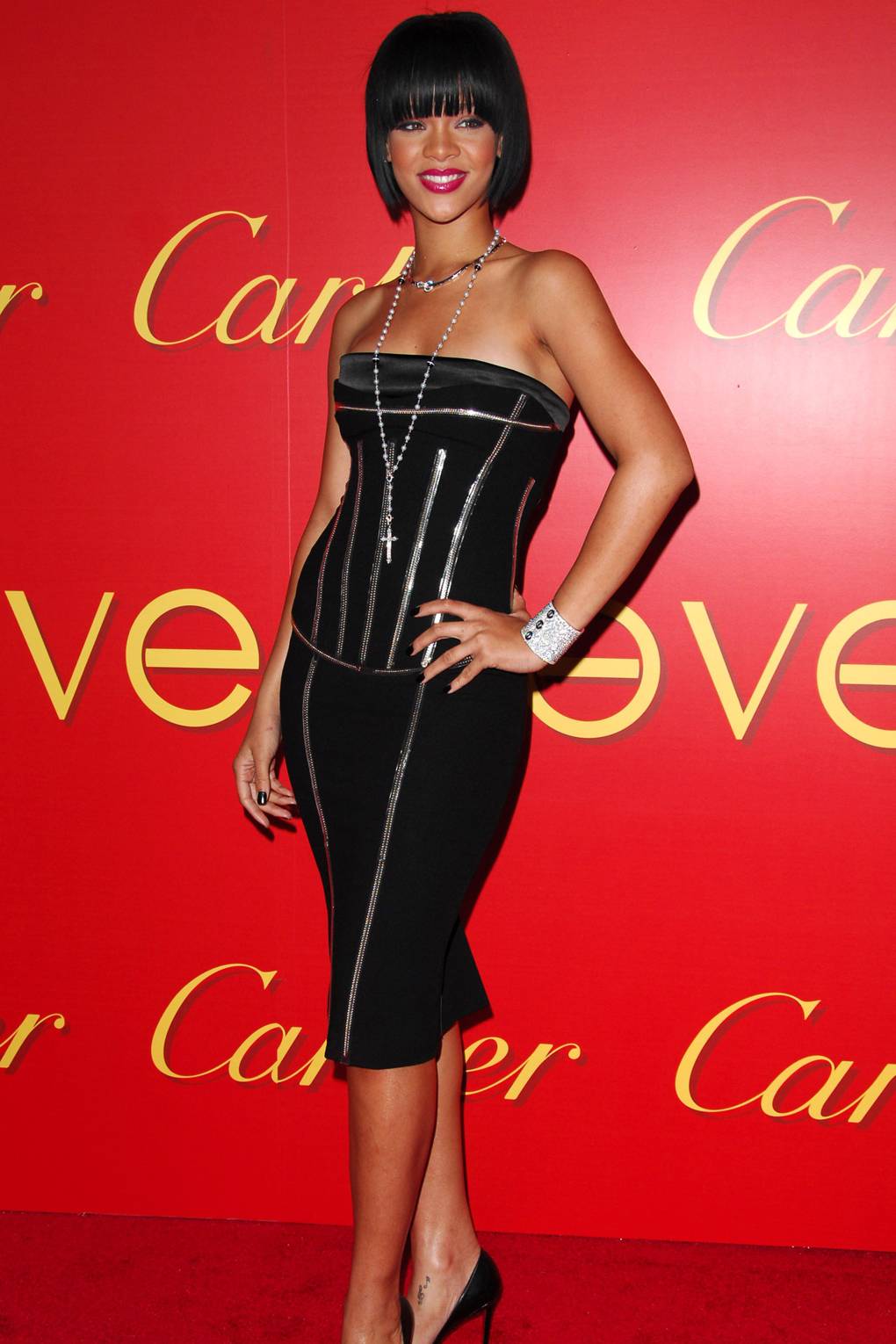 The blips were few and far between, though: Rihanna was back on fashion form at a Cartier party in June 2007, donning a divine Dolce & Gabbana dress with her newly befringed 'do.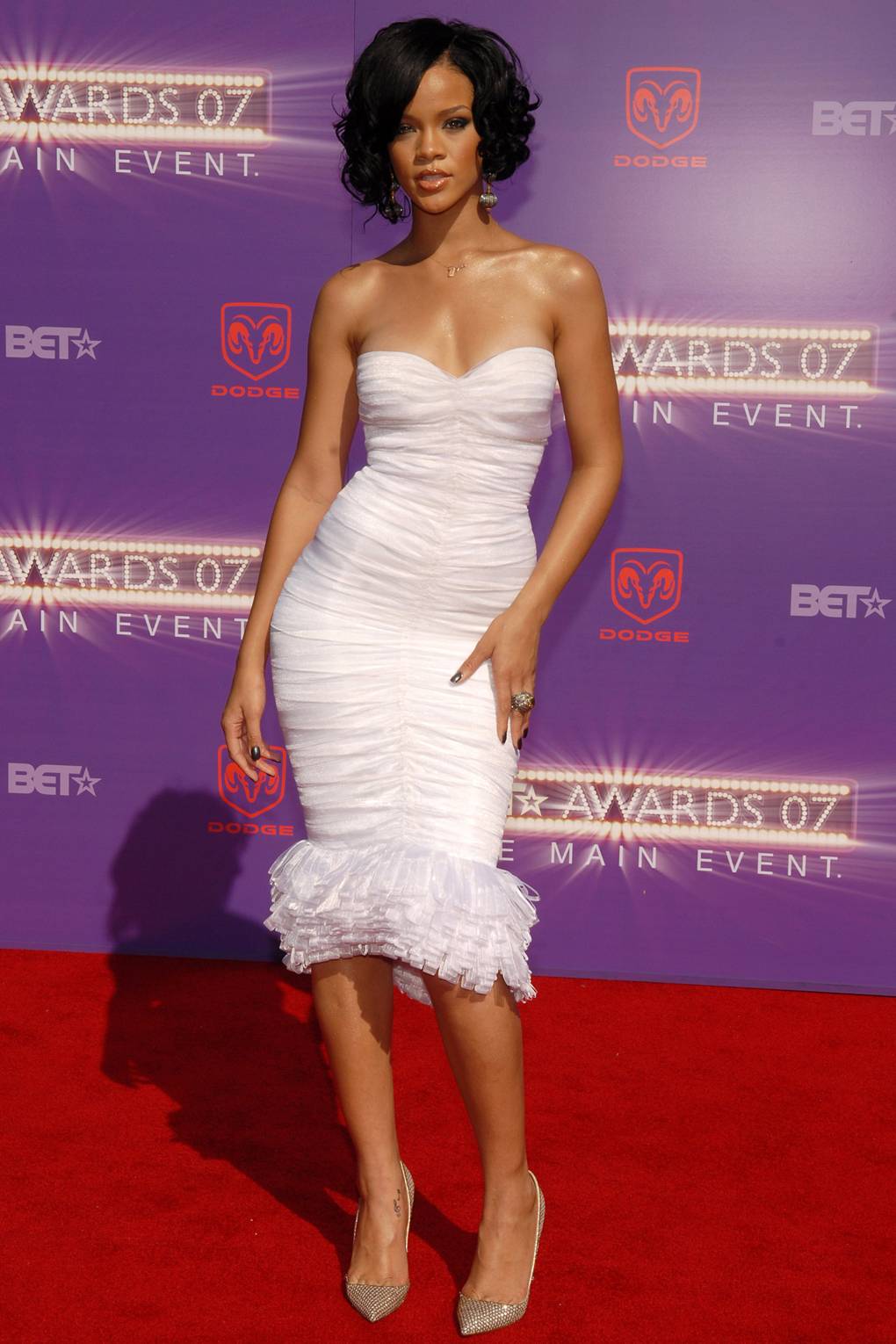 Ultra-pretty in a gleaming Hervé Leger bandeau dress for 2007's BET Awards.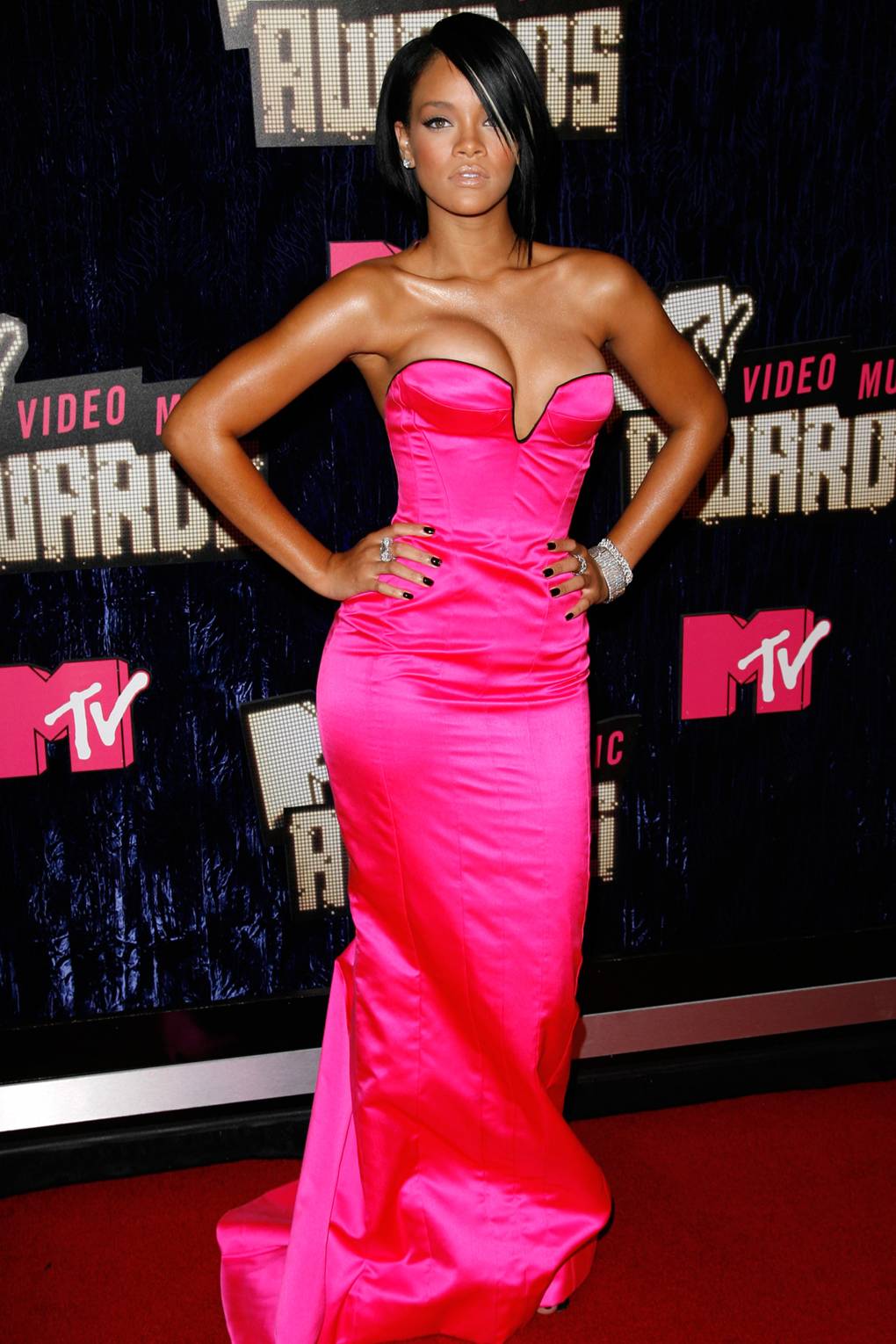 …Then it was back to hot pink for another MTV red carpet appearance – this time, floor-length and accessorised with bags of attitude.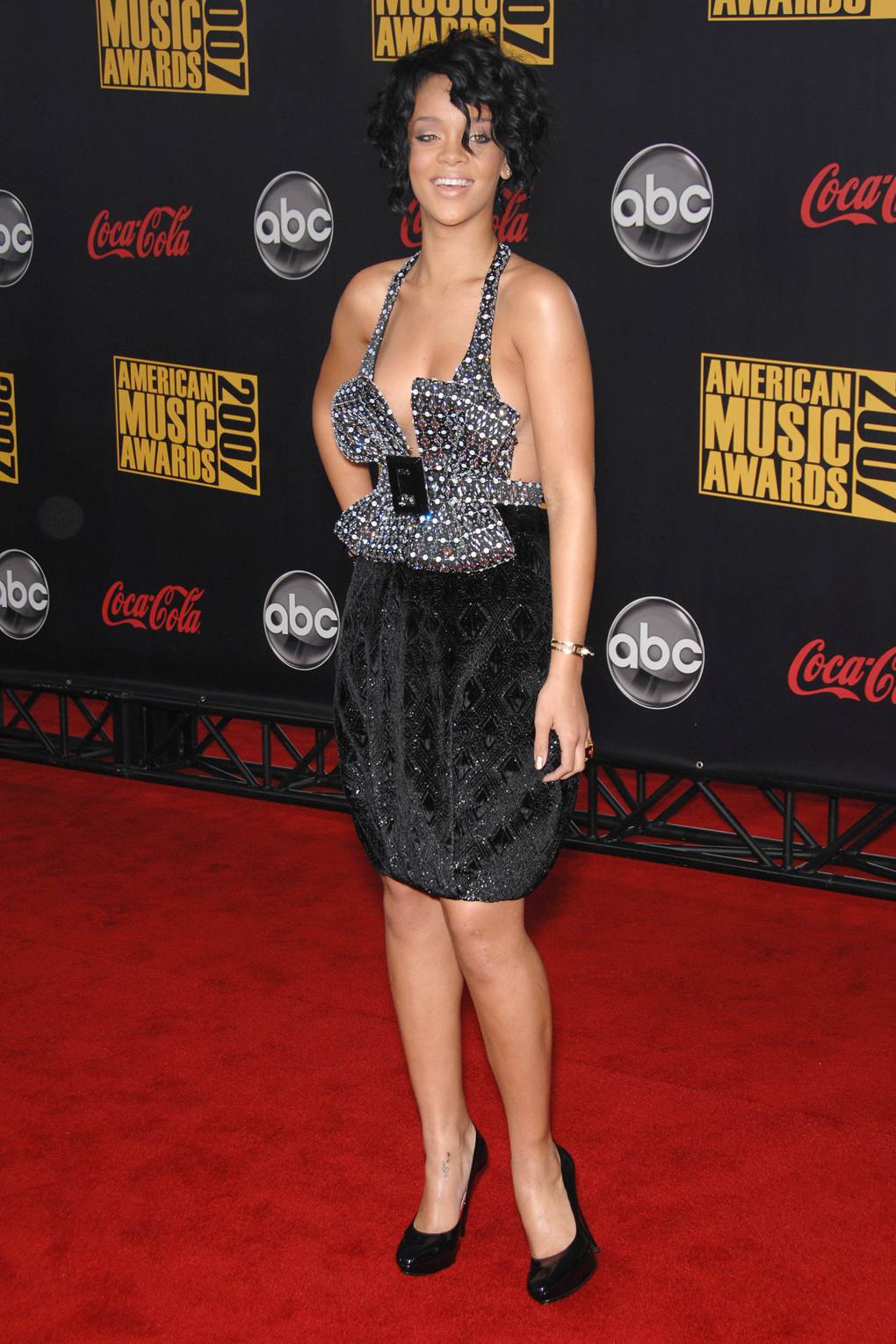 This Armani Privé dress wasn't everyone's cup of tea (and we can see why!), but the chainmail corset only proved to us that RiRi was every bit as daring as we'd hoped.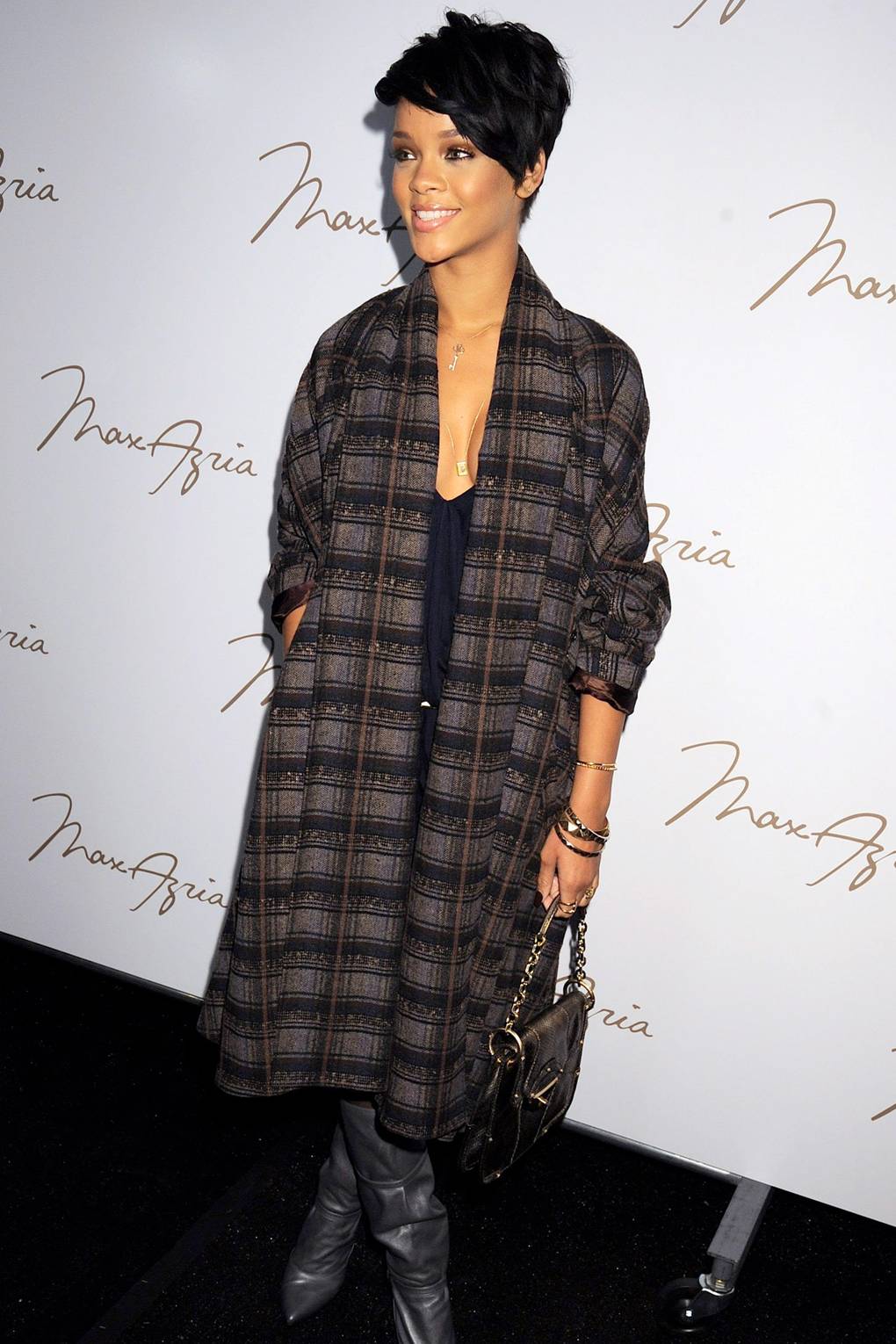 One word: gorgeous. This checked Max Azria shawl proved Rihanna could do dressed-down chic just as well as red carpet glamour. And it wasn't just us who noticed. RiRi was swiftly becoming a darling of the fashion world in 2008, popping up front row at plenty of the New York shows.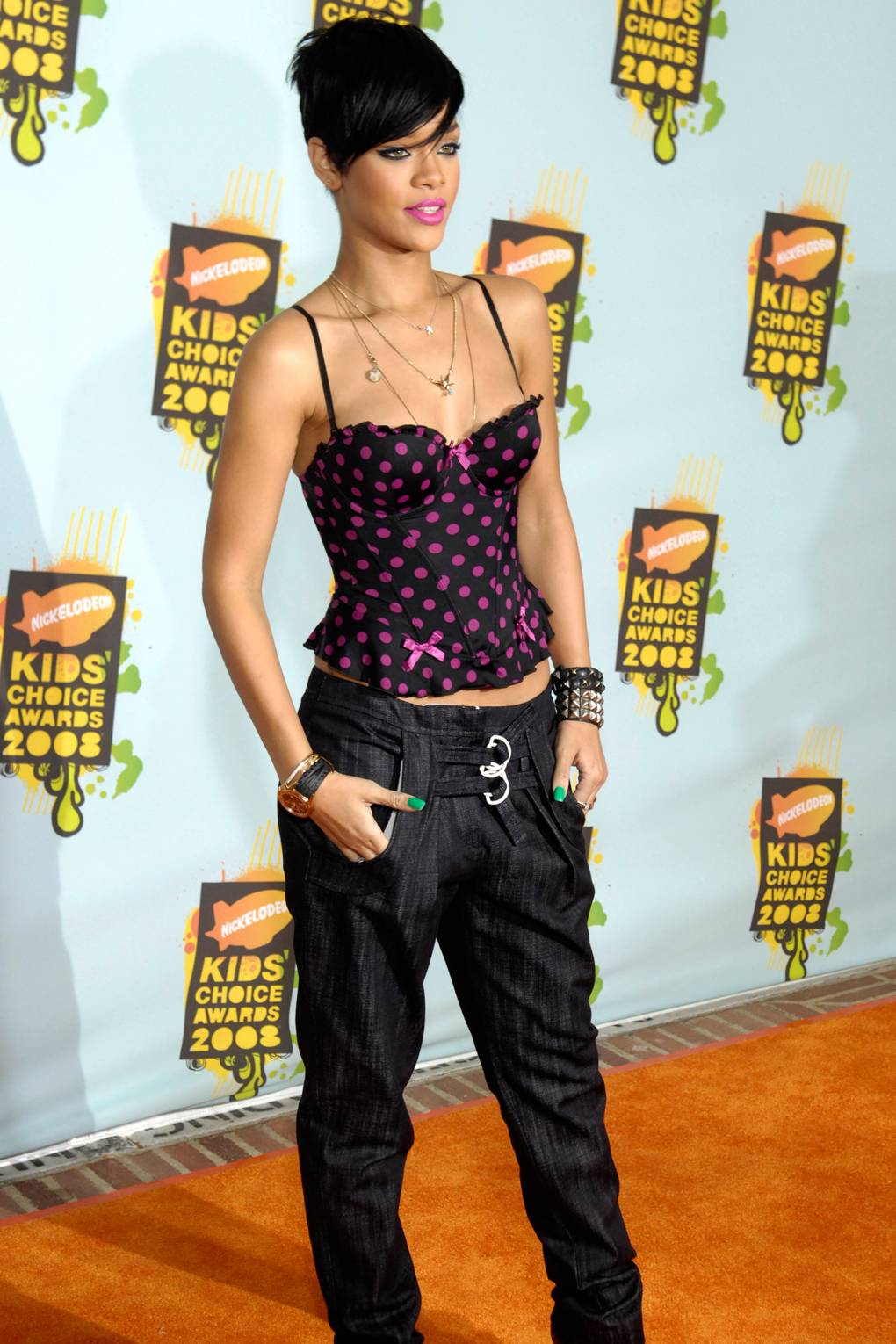 One of our fave things about Rihanna? She can rock 'young and fun' just as well as sophisticated style. This bubblegum pop combination of H&M corset and Stella McCartney jeans was her choice for the Nickelodeon Kids' Choice awards in 2008.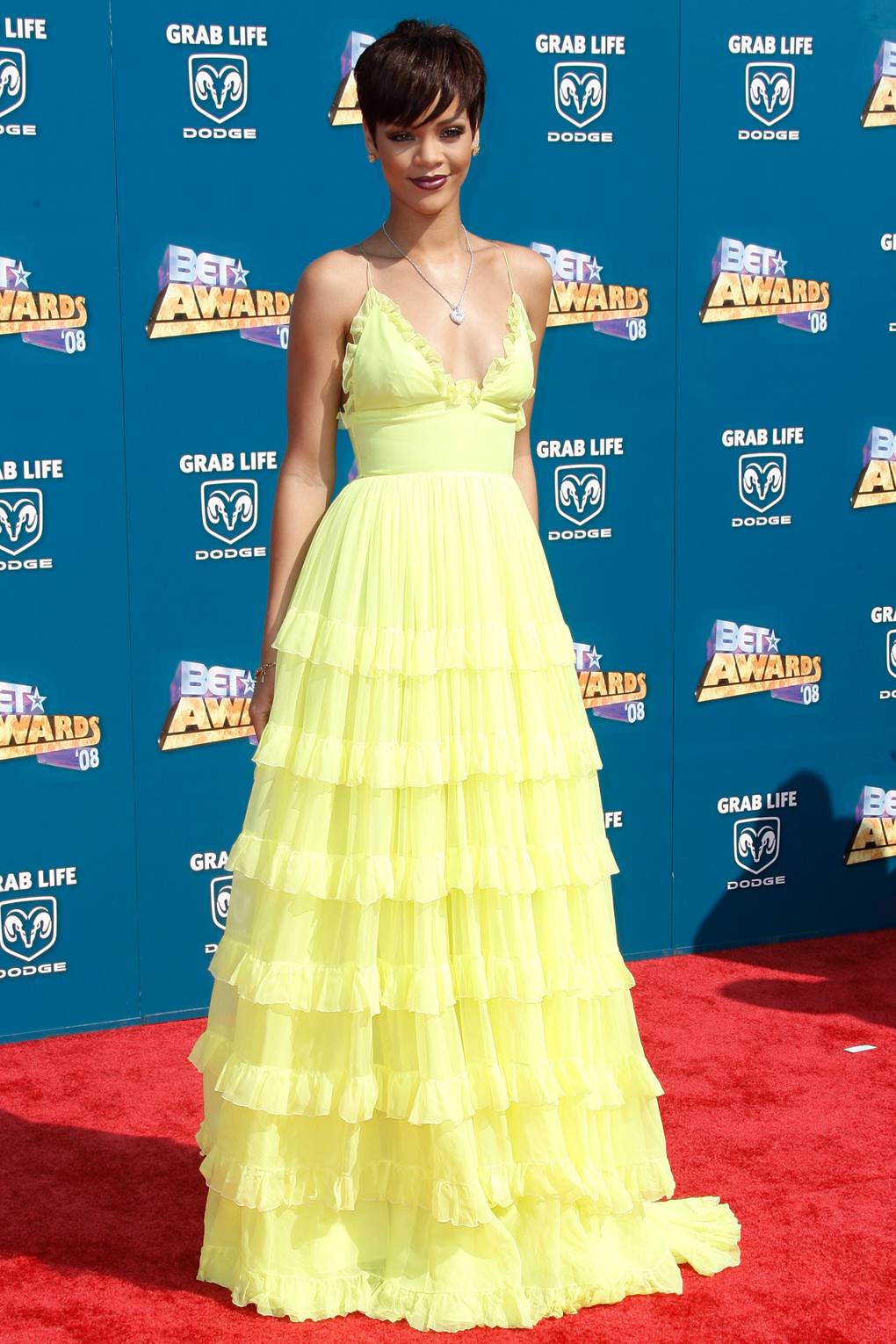 Contrasting a fairytale-worthy lemon yellow Giambattista Valli gown with a striking deep berry shade of lippy at the 2008 BET Awards.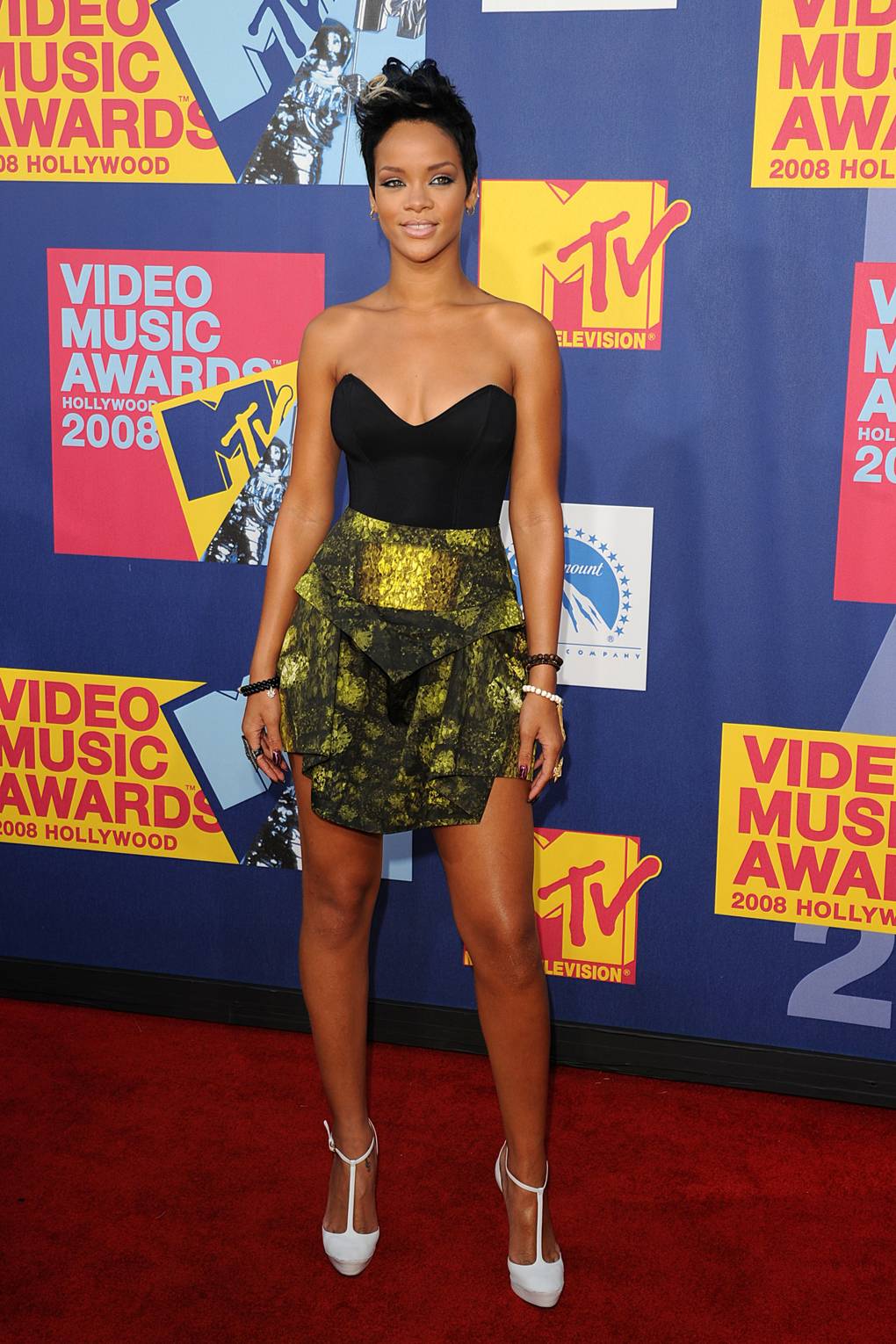 As 2008 rolled around, it was becoming apparent that the less hair Rihanna had, the more style she seemed to acquire. Check out the über-cool bustier dress she matched with her new short buzz-cut for the 2008 MTV VMAs.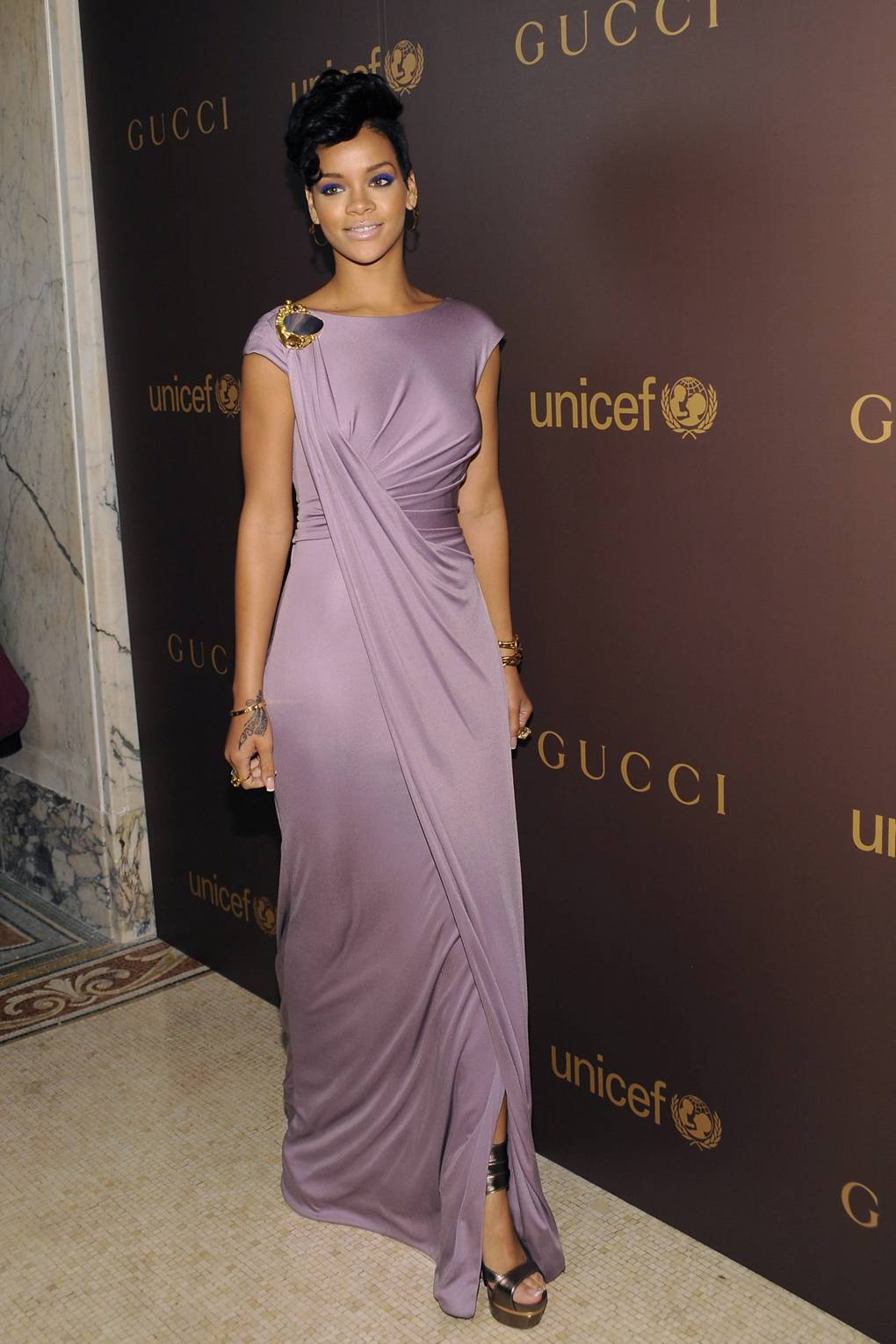 Rihanna style version 3.0 might have been more at home in studded booties and mini dresses, but that didn't mean she couldn't still pull a show-stopping gown out of the bag. This lilac Gucci beauty showcased her grown-up side.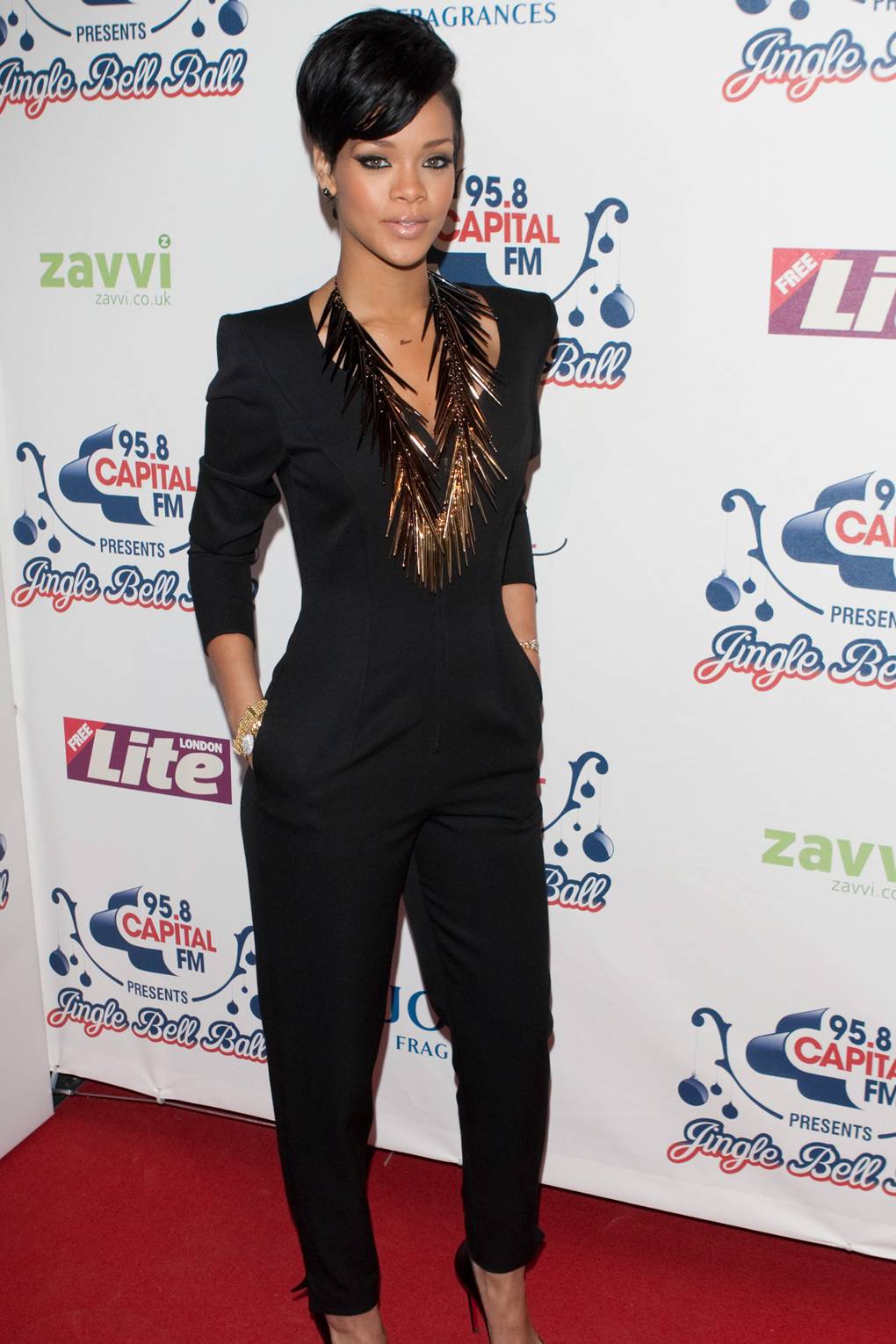 Leading the jumpsuit trend in typically cool style, Rihanna got the look spot-on in this tailored piece, accessorised with Christian Louboutin heels and a statement necklace, for 2008's Jingle Bell Ball.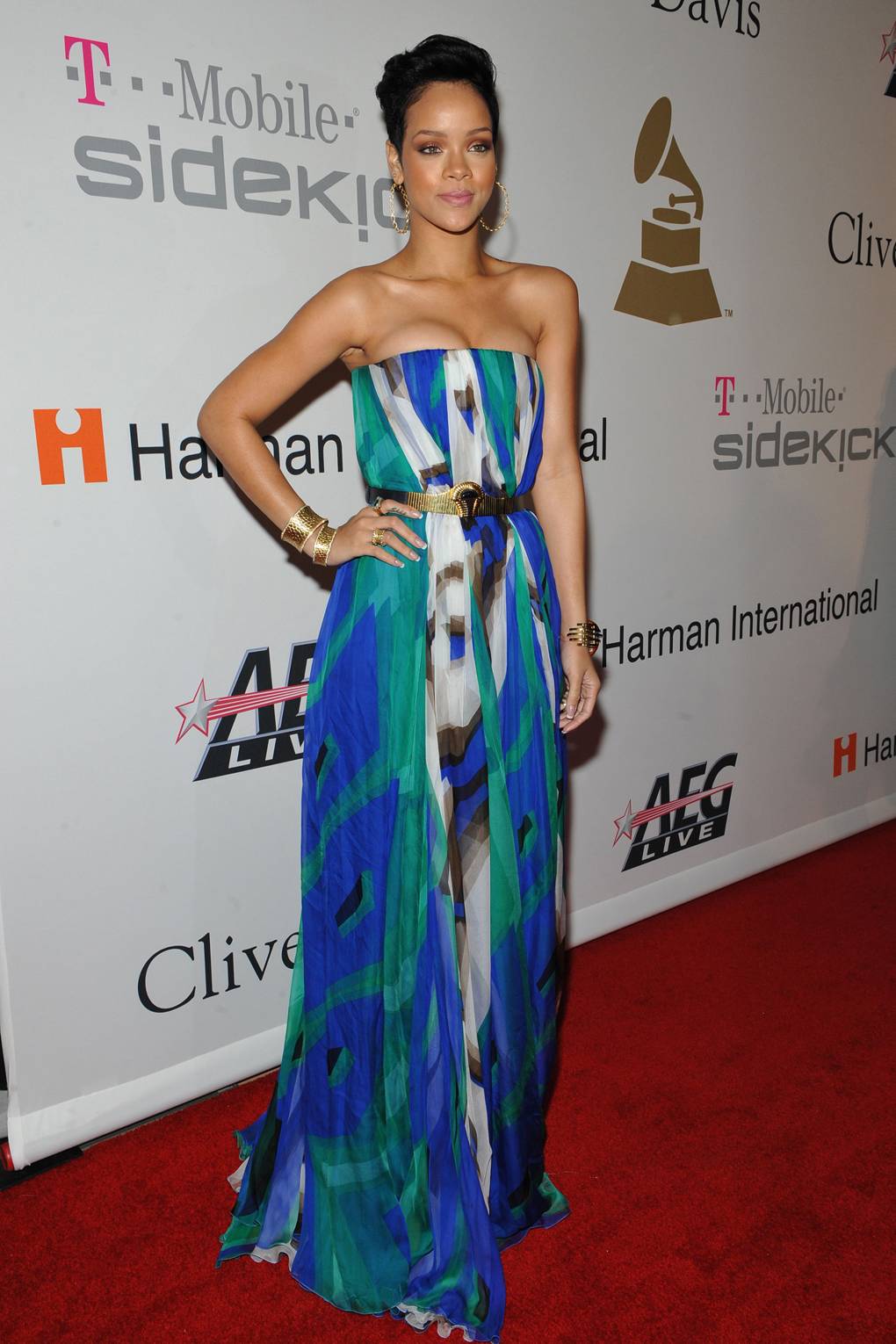 Gucci girl Rihanna plumped for another of the fashion house's divine maxi dresses for her appearance on the red carpet at the 2009 Grammys. This time it was a loud, printed number that caught her eye (and ours).
Read More: glamourmagazine